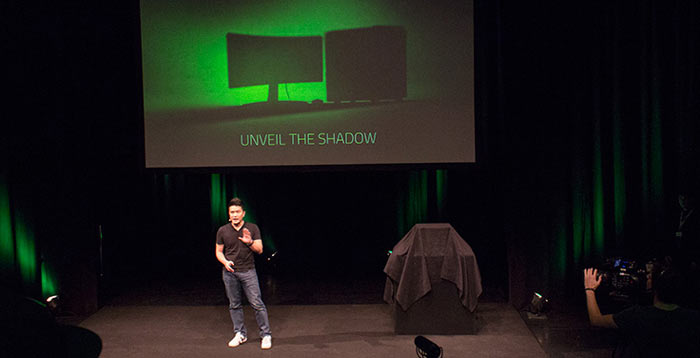 Razer Blade Pro
Tonight at a special event in Berlin, Razer took the wraps off a new machine it had been teasing over the last couple of days (teaser image shown in the stage photo above). To many a spectator's surprise, the newly unveiled gaming PC wasn't a desktop, but another laptop destined for the maker's stable. However, Razer is straplining the new 17-inch Razer Blade Pro laptop as "the ultimate gaming desktop in a laptop."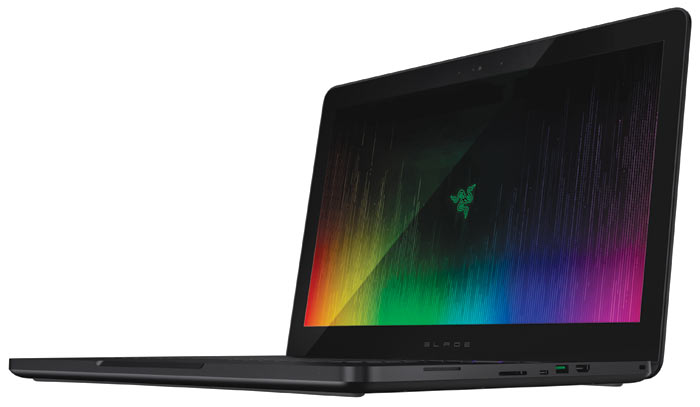 As mentioned in the intro, this is a large 17-inch laptop, the screen is 17.3-inches in diagonal to be exact. It is one of the many premium hardware components in the new Razer Blade Pro. The screen is made by Sharp, one of its IGZO UHD panels with LED backlighting. This 16:9 ratio screen with a resolution of 3840 x 2160 pixels offers 170 degree viewing angles, a 100 per cent Adobe RGB gamut, and capacitive multi-touch interactivity.
With such a screen you would want a top class graphics accelerator and Razer doesn't disappoint with an Nvidia GeForce GTX 1080 (8GB GDDR5X VRAM) equipped. This is backed up with the potent mobile processing power offered by Intel's Core i7-6700HQ processor (6MB Cache, up to 3.50GHz).
An easy to glance-over bullet point spec list for the Razer Blade Pro follows:
17.3-inch IGZO UHD G-SYNC, 16:9 ratio, 3840 x 2160, with LED backlight, with capacitive multi-touch
Nvidia GeForce GTX 1080 (8GB GDDR5X VRAM)
Intel Core i7-6700HQ Quad-Core Processor (2.6 GHz / 3.5 GHz)
32GB Dual-Channel System Memory (DDR4, 2133 MHz)
512GB SSD RAID 0 (2x 256GB PCIe M.2) or 1TB SSD RAID 0 (2x 512GB PCIe M.2) or 2TB SSD RAID 0 (2x 1TB PCIe M.2) options
Razer Chroma lighting
Windows 10 64-bit, no bloatware
Anti-ghosting individually backlit ultra-low-profile mechanical keyboard
Killer DoubleShot Pro: Killer Wireless-AC 1535 (IEEE 802.11a/b/g/n/ac + Bluetooth 4.1), Killer E2400 (Gigabit Ethernet 10/100/1000)
Thunderbolt 3 (USB-C), USB 3.0 port x3 (SuperSpeed), HDMI 2.0 video and audio output, SDXC card reader
Built-in stereo speakers, Dolby Digital Plus Home Theatre Edition, 7.1 Codec support (via HDMI), 3.5 mm headphone/microphone combo port
Built-in webcam (2.0 MP)
Array microphone
Razer Synapse enabled with programmable keyboard, trackpad, backlighting, and fan control
Trusted Platform Module (TPM 2.0) security chip embedded
Compact 250W power adapter, Built-in 99Wh rechargeable lithium-ion polymer battery
Approx. Size: 0.88 in. / 22.5 mm (Height) x 16.7 in. / 424 mm (Width) x 11 in. / 281 mm (Depth), Approx. Weight: 7.80 lbs. / 3.54 kg
In supplemental details the Razer Blade Pro is constructed using a unibody CNC aluminium chassis. Important in this class of laptop is an efficient thermal solution and Razer has implemented "the worlds thinnest manufactured vapour chamber cooling solution in a notebook," to keep the Pro purring along smoothly under duress. Another interesting feature is the RGB mechanical keyboard and trackpad configuration as you can clearly see below.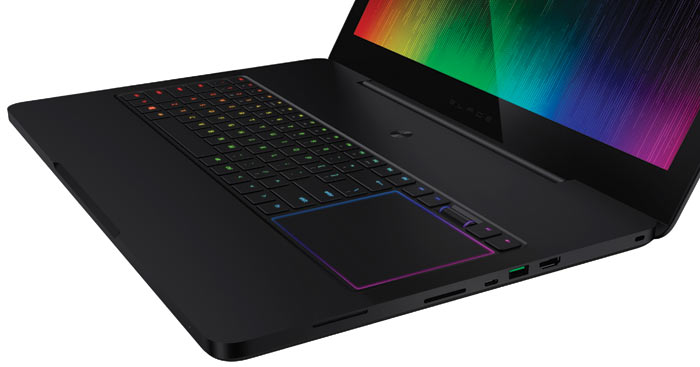 Talking about the new Razer Blade Pro flagship, Min-Liang Tan, Razer co-founder and CEO reflected on his engineering team's achievements and how the firm had grown over a relatively short time. He referred to the new cooling system capabilities as "staggering".
The Razer Blade Pro is expected to ship via RazerZone from November, in the US and in Europe. Pricing starts at US$3,699 / €4,199 / £3,499.
Razer Blade Laptops available in Europe
Razer's newest 12.5-inch Razer Blade Stealth ultraportable laptop and the 14-inch Razer Blade gaming have come to Europe. "The demand in Europe for a thin, powerful and portable laptop for gamers has inspired us every waking moment since we launched the Razer Blade five years ago," said Razer CEO and Co-Founder Min-Liang Tan before telling the crowd that the firm now had everything in place to sell and distribute these signature Razer systems "throughout Europe in 2016".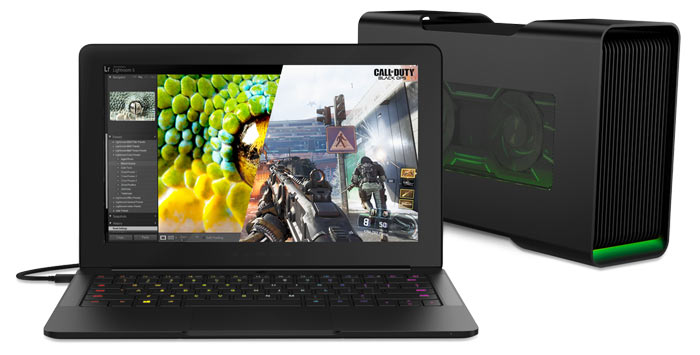 The Razer Blade Stealth is a thin (13.1mm), light (1.29Kg), portable and powerful ultrabook. Buyers can choose from a 12.5-inch QHD or 4K screen. Razer describes it as the best choice for "gamers that go". Its thin and light construction means that it relies upon the Intel Skylake Core i7-7500U processor's integrated HD Graphics 520 when on the road. However, it is meant to come home to your desk to sit alongside the Razer Core (connects via Thunderbolt 3) to provide desktop class graphics and further expandability and connectivity.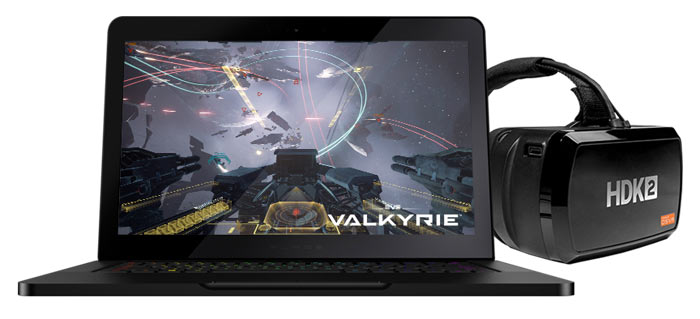 Razer thinks it has the ultimate laptop for those who definitely want integrated graphics but value portability with its new 14-inch Razer Blade. This laptop melds the power of a 6th gen Intel Core i7 quad-core processor, Nvidia GeForce GTX 1060 graphics, 16GB of dual-channel memory, and PCIe-based SSD storage up to 1TB. It fits these components with a 14-inch full HD or QHD display in a slim (17.9mm) unibody aluminium chassis weighing in at approx 1.9Kg, depending on configuration.
The 12.5-inch Razer Blade Stealth and 14-inch Razer Blade are available now in the UK, Germany and France priced at £999/ €1,099 and £1,749 / €1,999 respectively. They all ship with localised keyboard layouts for the buyers' region. You can buy them directly via Razerzone.com.