MSI is teasing a wide range of new gaming laptops to be launched later this month. All the new laptops have something in common; they are all VR Ready, as MSI declares itself the leader in this field. MSI gaming models such as the GT, GS, GE, and GP series will benefit from new components, improved performance, and the latest cooling design.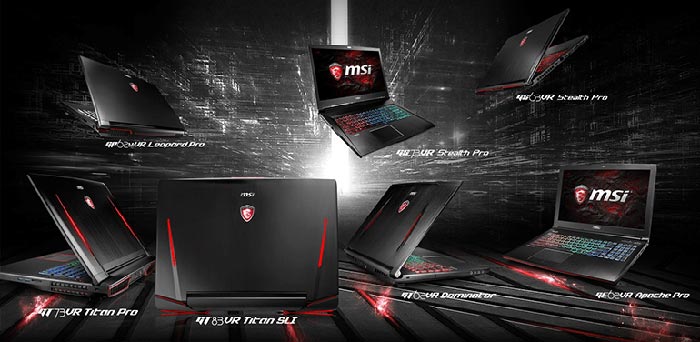 Specific details are thin on the ground, and what we are told is in a rather unstructured press-release, but the list of new models is as follows:
GT83VR, GT73VR, GT72VR, GT62VR, GT72VR, GT62VR
GS73VR, GS63VR
GE72VR, GE62VR
GP62MVR
While you might hope to hear tech specifics like what CPUs and GPUs the new VR-Ready range of laptops come equipped with, those details haven't been outlined as yet. We are told that some of the laptops come with Intel's Core i7 6820HK CPU but nothing is said about the GPUs – perhaps that information will come following a launch of new Nvidia GeForce mobile GPUs.
The powerful MSI GT72VR / GT62VR Dominator series get new cooling designs using 'Cooler Boost 4', new Whirlwind fans and up to 12 heatpipes. MSI's lower tier models, the GE72VR and GE62VR Apache also benefit from 'Cooler Boost 4' with a 5~10 per cent lower CPU temperature under heavy loads. Users can instigate the Cooler Boost via a dedicated quick activation button.

Touching upon visuals, MSI says it has kitted out the GT72VR Dominator with a 120Hz/5ms panel, "the fastest mobile display". This display offers 'True Colour Technology', near 100 per cent sRGB ready. If you opt for the 4K IPS version it reaches 100 per cent AdobeRGB.
Many models are said to offer upgraded audio experiences. Sound by Dynaudio speakers are built-in to GT83VR / GT73VR Titan laptops as is Nahimic 2 and Audio Boost 2 technology. GE72VR and GE62VR Apache laptops feature better audio quality from Nahimic 2 and Audio boost AMP. The slim and light (for gaming) MSI GS63 Stealth Pro features ESS SABRE HiFi Audio and Nahimic 2 Audio Enhancer.
Other notable improvements to the VR range come from upgraded keyboards present in both the Stealth and Apache models mentioned above.
It looks like we will have to wait for the specific details and highlights of the above laptops. I'd guess we will hear more about MSI's VR Ready range at Gamescom, Cologne which is held between 17th and 21st August.
In other MSI news, the firm is expected to ship a total of four million graphics cards this year. That's about 15 per cent better than last year.