Gaming focussed tech company Razer has unveiled what it calls "the ultimate Ultrabook" at the CES 2016. The aluminium unibody Razer Blade Stealth is both thin and light, comparable to modern non-gaming designs, and features a Skylake Intel Core i7 processor, PCIe SSD, 12.5-inch touch display and Thunderbolt 3 connectivity. Its gaming capabilities come largely thanks to that Thunderbolt 3 interface, as Razer has designed the accompanying Razer Core which connects up and works as a power supply, extended I/O hub and can accommodate a 2-slot graphics card with up to 375W of power draw, or "virtually every popular desktop graphics card from AMD and Nvidia".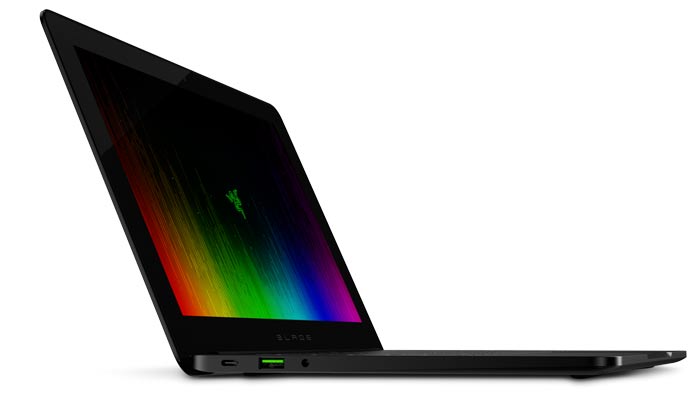 There are two Razer Blade Stealth models being launched initially. They vary by screen resolution and built-in storage capacities. The base model is configured as follows, with the higher res screen and boosted storage model spec difference listed in brackets.
CPU: Intel Core i7-6500U Dual-Core Processor with Hyper Threading 2.5GHz / 3.1GHz Base/Turbo. Includes Intel HD Graphics 520 with 300MHz / 1.05GHz base/boost.
Memory: 8GB dual-channel onboard memory, LPDDR3-1866MHz, non-removable
Storage: 128GB/256GB PCIe M.2 (256GB/512GB PCIe M.2)
Screen: 12.5-inch IGZO 16:9 aspect ratio, with LED backlight, capacitive multi-touch, up to 170° wide viewing angles at QDH resolution of 2560 x 1440. (UHD 3840 x 2160 resolution)
I/O: Thunderbolt 3 USB-C port, USB 3.0 x 2, HDMI 1.4b, 3.5mm audio combi jack, array mic
Multimedia features: Stereo speakers, Built-in 2MP webcam, Dolby Digital Plus Home Theatre Edition, 7.1 Codec support via HDMI
Keyboard: Chroma anti-ghosting keyboard with individually backlit keys
Networking: Wireless-AC, 802.11a/b/g/n/ac + Bluetooth 4.1
OS: Windows 10 64-bit
Power: 45W compact USB-C power adaptor, 45Whr li-ion battery
Physical: 13.1 mm Height x 321 mm Width x 206 mm Depth, 1.25Kg
Price: from $999 (up to $1599)

Razer claims that the new laptop is priced "significantly less than comparable systems from other manufacturers". This CNC-milled aircraft grade aluminium laptop is now available for pre-order. The first Razer Blade Stealth Ultrabooks will ship later this month and you will be able to purchase them from the Microsoft Store from February onwards.
Razer Core
This key component is pretty essential if you are going to sit your Razer Blade Stealth down anywhere for serious PC gaming sessions. The Core chassis connects to your Stealth laptop via the 40Gbps Thunderbolt port and provides the following:
Supports single double-wide, full-length, PCI-Express x16 graphics card
GPU max dimensions – 5.98 in. / 152 mm (Height) x 1.73 in. / 44 mm (Width) x 12.20 in. / 310 mm (Length)
GPU max power support – 375 W
USB 3.0 port x 4 (SuperSpeed)
Gigabyte Ethernet (10/100/1000)
Chroma lighting (2 zones)
Built-in 500 W power supply
8.6 in. / 218.4 mm (Height) x 4.13 in. / 104.9 mm (Width) x 13.38 in. / 339.9 mm (Length)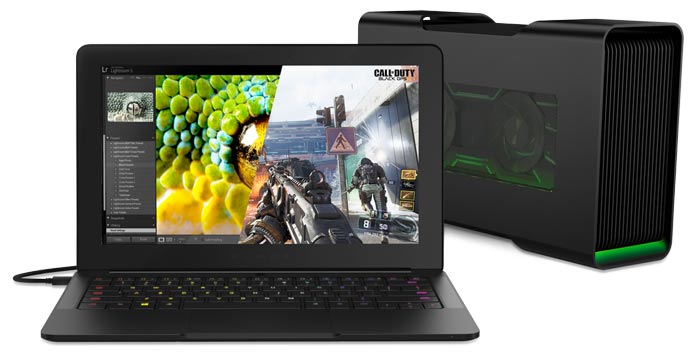 At the time of writing Razer hasn't put a price to the Core. This Thunderbolt expansion chassis will become available in H1 2016. At the CES 2016 Razer also announced the Stargazer "the world's most advanced webcam", and the Nabu Watch wearable for gamers.
Want to know more about the Blade Stealth and Core? Let Razer take you through a HEXUS-filmed walkthrough of both products in the video below.
Loading...
Been waiting a while?
Get Flash
to see this player.