Earlier today Acer and Microsoft held a joint press conference in Taipei, Taiwan to introduce a new portfolio of Windows 10 devices to the public. The Taiwanese PC maker sought to spell out its strategy of producing devices to make the most of Windows 10 tech such as Cortana, Continuum, and Microsoft Edge. Other device makers such as Dell, HP and Microsoft itself had similar Windows 10 hardware launches last week.
With Windows 10 Acer will "deliver a unique and consistent experience across our comprehensive product portfolio, be it notebooks, desktops, tablets or smartphones," said Jason Chen, Acer President and CEO. Sharing the stage, Microsoft's Terry Myerson, Executive Vice President of the Windows and Devices Group, told attendees that "We worked closely with Acer to help ensure their devices would make the most of Windows 10". He added that he was excited with the new Acer devices announced today.
Acer Aspire Z3-700 portable all-in-one PC
Have you ever wished for greater portability and less reliance on mains electricity from your desktop PC? Acer thinks it has a solution with the Aspire Z3-700 portable all-in-one (AiO) PC. This computer is built around a 17.5-inch full HD 10-point multi-touch screen. It can be used as a traditional AiO with mouse and keyboard. Alternatively it can be used like a large tablet and positioned at your preferred angle with its twin kickstands.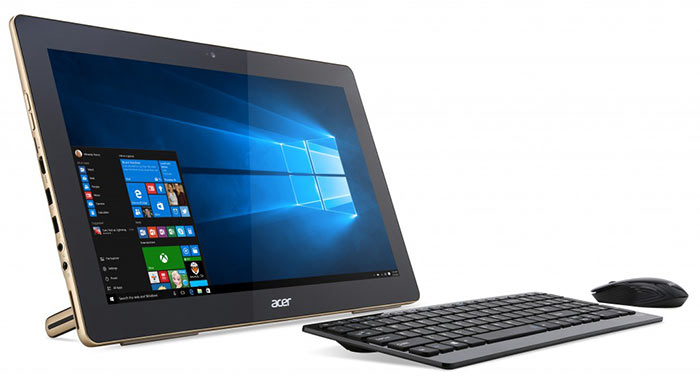 For exceptional portability the Z3-700 features a battery that is said to provide five hours of use away from the mains. The 'tablet' part of this AiO setup measures 15.6mm thick and weighs 2Kg.
Buyers can choose from a selection of Intel Pentium or Celeron processors, up to 8GB of DDR3L system memory, and SSD or HDD storage options. There is an optional stylus available. The Acer Aspire Z3-700 will be available in EMEA by the end of the year with prices starting at €599.
Acer Aspire R 14 with 360 degree hinge
The Acer Aspire R 14 flexible laptop convertible has evolved to include new design finishes and a thinner 360 degree dual-torque hinge, facilitating four usage modes; laptop, tablet, tent and display modes. This 14-inch convertible is thinner and lighter than ever, measuring just 18.5mm thick and weighing 1.59Kg.
Inside, the Aspire R 14 packs a choice of 6th Gen Intel Core processor, up to 8GB DDR3L system memory, and SSD storage. Users can enjoy fast Wi-Fi connectivity thanks to MU-MIMO wireless 802.11ac technology. The Acer Aspire R 14 will be available in North America in late October with prices starting at US$699, and in EMEA in late October with prices starting at €799.
Both the above new devices feature dual-digital microphones to aid with Cortana interaction and VOIP chats. For improved sound output they feature Acer TrueHarmony Plus technology with Dolby Audio. As you switch modes they adapt appropriately thanks to Continuum. To reduce eye strain both devices employ Acer low blue light technology.
At this latest event Acer again demonstrated its 5.5-inch Liquid Jade Primo smartphone being used as a smartphone plus Continuum powered desktop productivity device.