Gigabyte has today launched its 15.6-inch P35X v3 ULTRAFORCE gaming laptop. The Taiwanese computer and components maker headlines the machine as the "the lightest 15.6-inch gaming laptop" available. However readers will be pleased to know that the lightness and thinness of the machine doesn't seem to have resulted in its specs being trimmed - you even get 'quad-storage' capacity including a hot swappable ODD/HDD slot.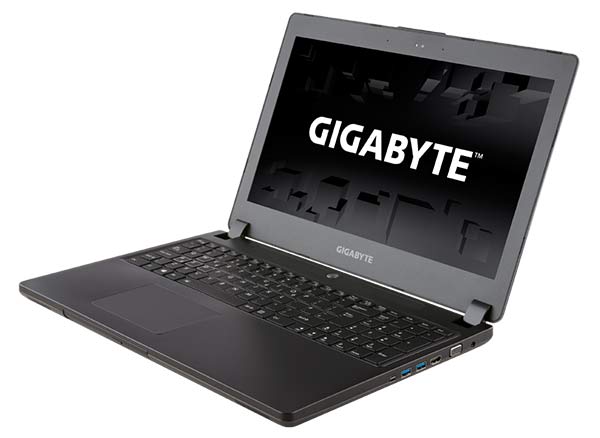 A tasty selection of key components have been chosen for this gaming-focussed portable including. The CPU comes from Intel's fourth generation of Core chips; buyers can choose between the Core i7-4860HQ (2.4GHz-3.6GHz) and Core i7-4710HQ (2.5GHz-3.5GHz). The P35X v3 has two memory slots offering a maximum of 16GB of RAM.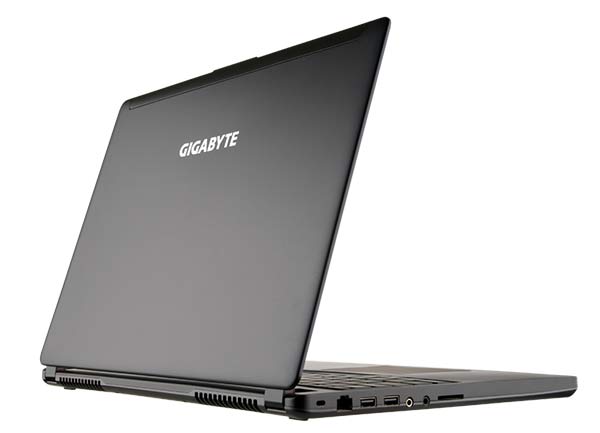 For graphics performance an Nvidia GeForce GTX 980M GPU is paired with 8GB of GDDR5 RAM. Gigabyte are happy to point out that this mobile GPU offers a 12 per cent performance improvement over the GTX 970M and can achieve P10000+ in 3DMark 11. Users have an Intel HD Graphics 4600 GPU to use for lower energy consumption non-3D intensive application purposes. 'Supra-cool Technology' is provided by Gigabyte with dual heatpipes and dual fans to stop things getting too toasty.
The 15.6-screen is a wide viewing angle type LCD. Again buyers have a choice, this time you can opt for a WQHD+ 2880x1620 display or the more common Full HD 1920x1080. To complete your audiovisual experience Gigabyte has built-in a pair of 1.5W speakers, a subwoofer, Dolby Digital Plus, an HD webcam and a microphone. An ambient light sensing backlit keyboard is standard.

There are plenty of storage options available thanks to the quad-storage bays. A plethora of mSATA SSD, 2.5-inch HDD and also ODDs option are available. Plenty of ports round off the system including USB(3.0)*2, USB(2.0)*2, HDMI, D-sub, RJ45, Mic-in, Earphone-out (SPDIF), SD Card Reader, DC-in Jack, Mini DisplayPort. Networking is catered for by the 10/100/1000Mbps Ethernet, 802.11ac/b/g/n Wi-Fi and Bluetooth 4.0.
The Gigabyte P35X v3 measures 385(W) x 270(D) x 20.9(H) mm and weighs in at between 2.2 and 2.3Kg depending upon your storage choices. The included battery pack is a Li-Polymer, 11.1V, 75.81Wh type. Finally, buyers have a choice of operating systems including Windows 8.1, 8.1 Pro, 7 Home Premium and 7 Pro.
A quick check on the internet here in the UK shows the price for the P35X v3 to be in the region of £1,600 or $2,400 in the US.