Microsoft is holding its Worldwide Partner Conference right now, until 17th July, in Washington DC. One of the most interesting things yesterday was hearing how Microsoft is going to combat the Google Chromebook threat. We've already heard about some ways Microsoft is making Windows cheaper or free for entry level devices depending upon price and screen sizes on offer. Now we have some details of the notebooks which will be the first to battle against the Chromebooks, made by partners such as HP, Acer and Toshiba.
The headline figure for the entry price for new Windows laptops has been set at $199. Microsoft COO Kevin Turner told conference attendees that HP has such a laptop which is expected to be released in time for the 'holiday season'. HP refer to this computer as the 'Stream' device, reports The Verge, however we weren't informed about any specs for this laptop. It was also revealed that HP would make 7-inch and 8-inch versions of its 'Stream' PCs starting from $99, also before Xmas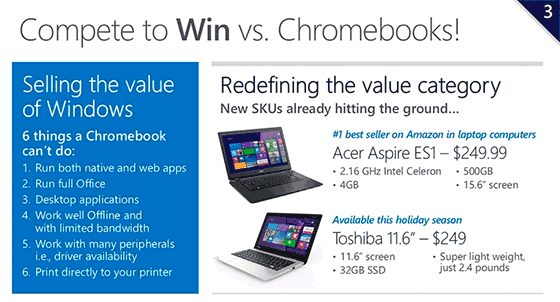 Slide via The Verge
Microsoft's COO did show a slide detailing two other budget priced notebooks however. Above you can see the slide showing Acer's 15.6-inch Aspire ES1 which is already available for around $249 in the US and about £230 here in the UK with VAT included. Toshiba is also said to be readying a $249 Windows laptop in time for Xmas. Toshiba's budget device will have an 11.6-inch screen, weigh under 1.1Kg (2.4lb) and come with a 32GB SSD installed.
While Microsoft partners are targeting the magic $199 figure with their new laptops Google has a chance to make Chromebooks even cheaper thanks to a new MediaTek chip, reports 9to5 Google. We hear that a budget quad-core ARM based MediaTek SoC, running at 1.5GHz, has been added to the Chromium OS base.
You can see Microsoft's six main assertions about why Windows laptops are better than Google Chromebooks in the slide above. What do HEXUS readers think about this list of comparative benefits of Windows (laptops) and do you think that Microsoft can successfully quash the Chromebook threat with $199 Windows laptops?