Dell launched a pair of Latitude Rugged Extreme notebooks earlier this month, boasting of durability in the most unforgiving conditions. The system building giant has now folowed up with a promotional video for the two laptops, showing extreme testing of the laptops whilst explaining their usage possibilities.
The Dell Latitude 14 Rugged Extreme has a traditional rugged design. This 14-inch laptop is said to be "ready for the worst," and can survive in the most extreme environments. In the video we can see the laptop being dropped from a height, washed with gushes of water and covered in mud and sand. I only wish we could have seen Coco the Clown give one a custard pie…
Also starring in the video, the smaller Dell Latitude 12 Rugged Extreme, is a convertible that can transform between notebook and tablet form factors. It was designed to adapt whilst still maintaining all the durability of its bigger brother. Although it feels more like a notebook compared to other convertibles we've seen, it is still a functionally "true tablet" for use in extreme conditions, says Dell.
The materials selected for these Rugged Extreme computers provide extra reinforcement whilst keeping the device as light as possible. Magnesium Alloy is a light weight, rigid material which forms the back bone of the portable chassis and 'Ultra polymer' is used in areas where shock absorption is needed.
Mechanical Engineer and Senior Manager, Anthony Bundrant, said in the video that Dell doesn't just want to pass industry standards but to increase the severity of tests to the breaking point in order to "identify potential issues and prevent them before them become real ones." Bundrant thinks this level of testing is crucial for customers who are going to be using these products in very harsh environments.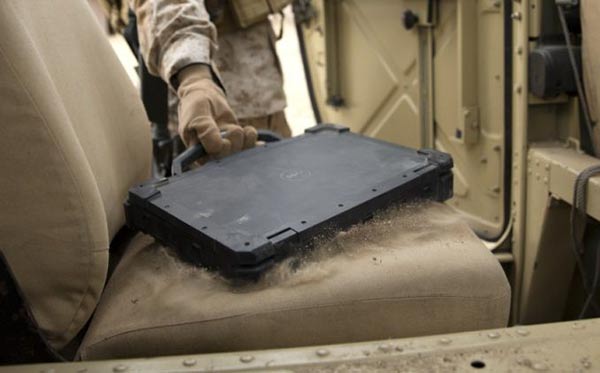 Improved screen viewability in harsh sunlight, privacy shutters on webcams and a customisable backlit keyboard that can quickly be switched to 'stealth mode' were also demonstrated in action during the short video.
Do you require portable rugged computer hardware in your job? Have a look at the video, embedded above, to see how the pair of laptops was built and how they cope in the 'Extreme' conditions.