Fujitsu has today announced a new laptop PC "for the Mature Consumer Segment". The so called 'GRANNOTE' (LIFEBOOK AH90/P) offers refined conservative styling with design choices made for ease of use including larger keycap characters upon its tactile keyboard, and Fujitsu 'Human Centric Engine' technology for better screen readability, ease of use and clear audio. This new laptop, designed for "active, mature adults, primarily around 60 years of age," will be a Japan exclusive when launched on 13th February.
Fujitsu GRANNOTE key specifications:
4th generation Intel Core i7-4500U processor
8GB RAM
1TB HDD fixed storage
Windows 8.1 OS
Slot loading Blu-ray drive
Box type speakers developed with Pioneer
The above specs are very decent for your 'gran' and are said by Fujitsu to offer fast processing and "the power to edit high-definition video or execute multiple tasks simultaneously".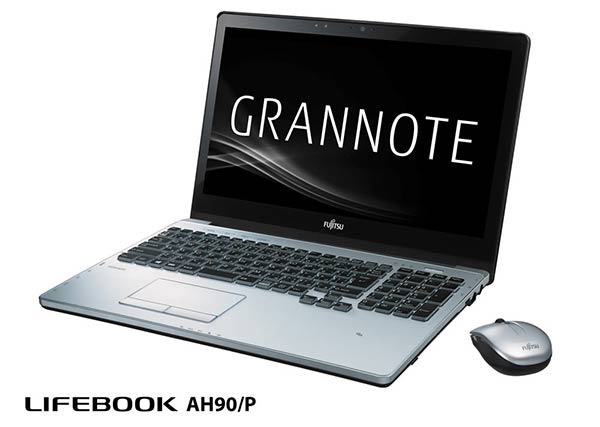 Now let's look at the qualities of the AH90/P which make it particularly suitable to the older computer buyer. First of all there is Fujitsu's Human Centric Engine (HCE); "This ensures optimal usability tailored to personal and ambient conditions," we are told. The system enhances screen readability and changes colour tones to match the ambient light. Also a feature called 'Awaseru View' "lets users preset the colour balance they feel best suits their age."
Another sense that deteriorates with age is also targeted by Fujitsu's HCE. 'Awaseru Voice' can automatically adjust volume levels of sounds "depending on the age" of the user as entered in their profile. This system boosts the higher frequency sounds which our senses find harder to pick up as we grow older.
Fujitsu has tailored the input peripherals to the more mature user too. It sounds like the company has gone to great lengths to make the hand-sensing-backlit keyboard action very comfortable; "The keyboard uses an approximately 3-mm key stroke and 18.4-mm key pitch for satisfying key action and comfortable hand placement. The keyboard even uses three different key weights tailored to different finger strengths. The little finger or pinky finger, for example, types with less force, and so the keys that it presses are weighted for a lighter touch, while the keys that the thumbs press need more force to register a click. All of these subtle factors combine to make a keyboard that allows for smoother input with a satisfying feel." Also let's not forget the larger clearer font used for the system keycaps.The LIFEBOOK AH90/P touchpad is designed to give reassuring, stress free operation. Fujitsu has designed a special GRANNOTE mouse if users would prefer to use a rodent rather than a touch-pad.
Another consideration Fujitsu has designed for is the easy identification of computer ports. You can see in the picture below that all the various side-edge ports have a clearly marked symbol on the upper surface of the laptop so you don't have to fumble around so much. Despite all these design tweaks the GRANNOTE looks quite stylish and "has a clean design that resonates with mature sensibilities".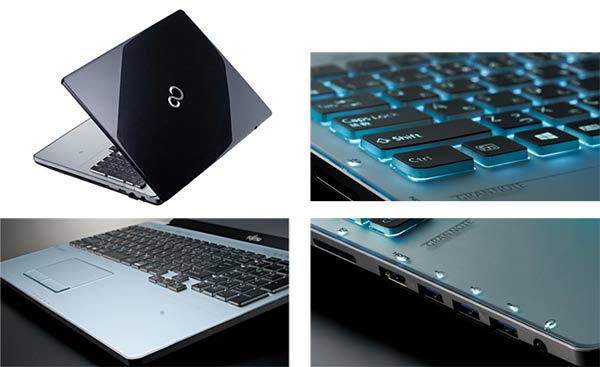 Some mature audience software in the form of the 'GRANNOTE Service Pack' is loaded onto this notebook which includes Fujitsu My Cloud - to upload printed photo albums to the cloud and the 'Raku-Raku Community' - a kind of social network for OAPs. Fujitsu also provides telephone and remote access support through this service pack.
As mentioned in the intro this notebook is just for Japan right now where it will be launched on 13th Feb. No pricing indication was given.