Gigabyte has launched a new Slate PC called the S10M. As you can probably guess by the name it's a 10-inch device, the multi-touch screen actually has a 10.1-inch diagonal to be precise. The S10M comes with Windows 8.1 or Windows 8.1 Pro installed and has ample built-in storage options up to 1TB. As a Slate PC, rather than a tablet, this device also sports plenty of full sized I/O ports.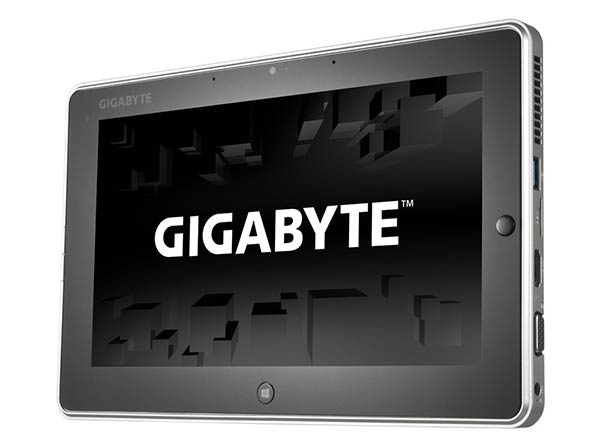 Could Gigabyte have found a sweet form factor that has been sorely neglected since the start of the tablet era? Let's look though the spec of this device and ponder that question.
Gigabyte S10M key specifications
Windows 8.1 or Windows 8.1 Pro
Intel Bay Trail N2805 Dual Core processor (1.46GHz) with Intel HD Graphics 4000
10.1-inch Capacitive Multi-touch Panel 1366x768 LCD
RAM up to 4GB, single slot
Up to 1TB Large Storage (64/128/256GB 2.5-inch mSATA SSD, 320/500GB/1TB 2.5-inch 7mm HDD 5400rpm)
Full PC Connectivity with I/O Ports as follows: USB(3.0), USB(2.0), D-sub, HDMI, RJ45, Mic-in, Earphone-out, SD card reader, DC-in jack, Docking Station/Extended Battery Port, SIM card slot
Networking via LAN: 10/100/1000Mbps Ethernet, Wireless LAN: 802.11b/g/n, Bluetooth: Bluetooth V4.0
AV facilities including 1.5 Watt Speaker, Microphone and 1.3 Megapixel webcam
Optical Finger Navigation and Mouse Buttons
Dimensions of 270(W) x 173(D) x 14.94(H) mm, weighing 790g with SSD or 850g with HDD
Gigabyte S10M options
3G SIM card slot
All Day Computing with Extended Battery (*optional)
Stay Connected Everywhere with 3.5G support (*optional)
Keyboard Kit transforms the S10M into a Notebook (*optional)
Docking Station transforms the S10M into a Multimedia Centre with DVD-Super Multi Dual-layer drive (*optional)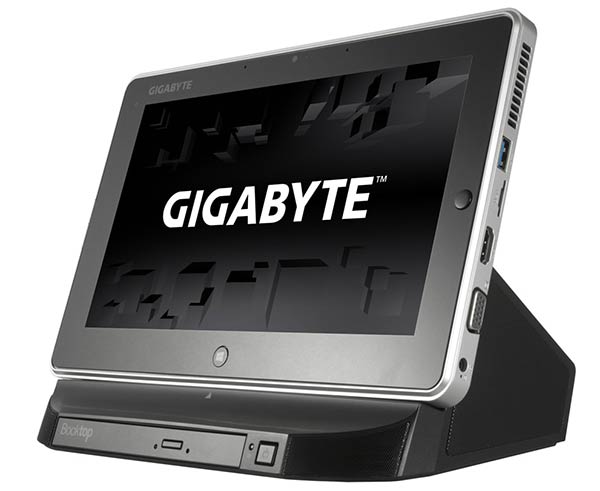 That's a lot of specifications and options to digest but unfortunately Gigabyte has neglected to provide us with any pricing information for either the Slate or any of the accessories.
For comparison the weight is between the Microsoft Surface 2 and Surface Pro 2 but its thickness is greater than the Surface Pro 2 by ~1.5mm. However it's nice to have all the full sized ports and possibilities at what will hopefully be a competitive price.