Gigabyte has revealed a new convertible laptop which it says "heralds a new era in innovative technology" by offering you a 3-in-1 design. Going beyond the common-or-garden laptop to tablet conversion of this hybrid Gigabyte has produced an innovative multimedia docking station accessory which turns this portable computer into a desktop system.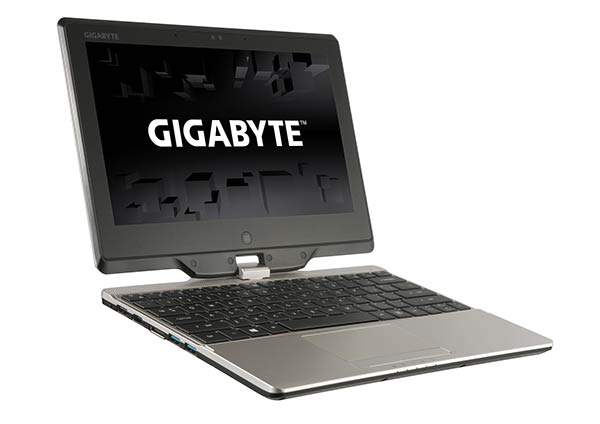 The Gigabyte U21MD has the following specifications:
Screen: 11.6-inch 1366x768 pixel multi-touch panel
Processor: 4th Gen. Intel Core i5-4200U Processor or Pentium 3558U Processor
Storage: Capacity up to: 256GB mSATA SSD + 1TB HDD Massive Storage System
Connections: USB(3.0)*2, USB(2.0)*2, D-sub, HDMI, RJ45, Mic-in, Earphone-out, SD card reader, Docking Port
Sound: Dolby Home Theater Sound Quality Optimization Technology
Input: Backlit Keyboard (*optional)
Dimensions: 298(W) x 226.4(D) x 20(H) mm
Weight: ~1.39kg (w/ Battery and m-SSD) / ~1.49kg (w/ Battery, m-SSD, and HDD)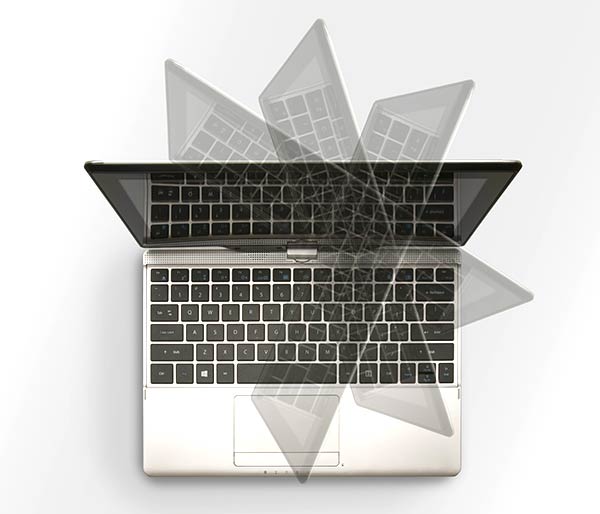 As you can see from the specs above the U21MD is light and portable being just 20mm thick and weighing under 1.4Kg if you don't utilise the HDD expansion option. You can specify up to a Haswell i5 processor and the storage you can build into it is very flexible. The U21MD also offers a generous range of slots and connections. The convertible may be appealing for media consumption on the go thanks to its tilt and swivel screen and Dolby sound quality.
Desktop mode, using the D21
Gigabyte has produced a desktop converter peripheral called the D21 into which the U21MD docks. The dock bumps up the available ports to include another 3x USB 3.0 ports, 2 x USB 2.0 ports, an HDMI 1.4a connector, RJ45, Audio I/O as well as the docking connector of course. The dock isn't so heavy if you wish to travel with it weighing just 265g. D21 dock measurements are 144(W) x 102(D) x 65(H) mm.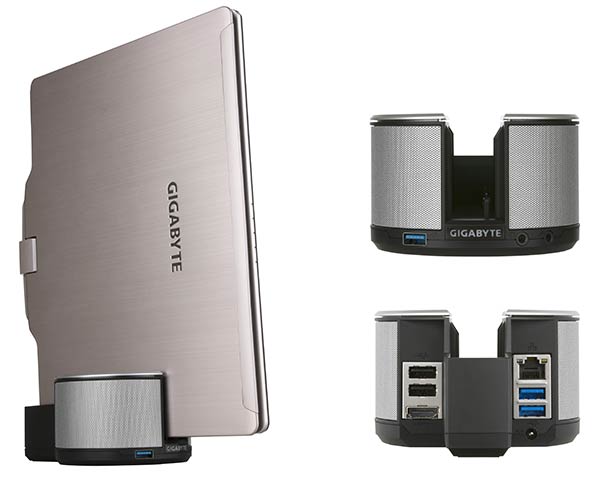 Previously I've enjoyed owning a dock for a laptop and it is indeed very convenient to leave all your desktop connections plugged in at home yet enjoy the laptop portability as you visit businesses, go to meetings etc. Gigabyte doesn't mention the pretty large speakers built into the dock but you can see them clearly as they dominate the overall appearance of the 'Multimedia Centre' dock.
Pricing and availability hasn't been indicated in the press release we were sent. Also I'd like some battery life indications before considering purchasing this interesting portable 3-in-1.