Although the Consumer Electronics Show (CES) in Las Vegas does not officially start until Tuesday, Acer is among a number of large companies to jump the gun and announce a new range of products which will be shown at the tradeshow. Below you will find details about a new addition to Acer's Chromebook range and two updated Ultrabook models.
New Acer Chromebook
The new C720p-2600 Chromebook is an updated member of Acer's touchscreen Chromebook line. It's powered by an Intel Celeron 2955U processor based on the Haswell micro-architecture, just like previous C720 models, and it will include a 11.6 inch touchscreen HD LED back-lit display. The C720P-2600 has a 2GB RAM and a 32 GB solid-state drive installed as standard and will come in a new colour Acer calls 'moonstone white'.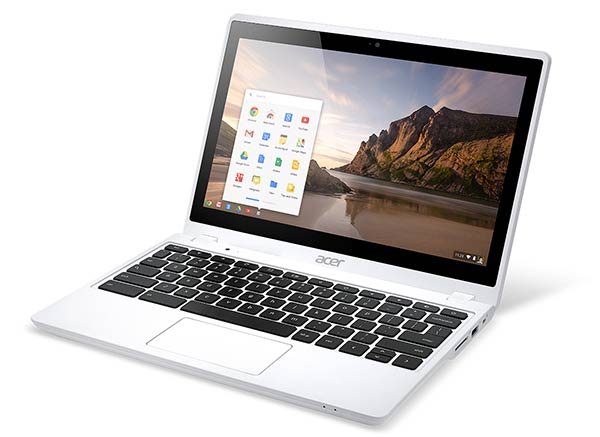 An anonymous long-time Acer partner expressed their views on Acer's Chromebook models, which in his opinion have yet to take off, reports CRN. The business insider said: "I think maybe in six to nine months companies might start looking at Chromebooks because they're cheap and they're easy to use, and BYOD is taking off. But if that's where Acer wants to go, then they need to do a better job working at communicating that to us and working with partners." With Acer's late efforts to target the education market, hopefully the new affordable and improved model can help Acer put a turbulent 2013 behind it.
Acer Aspire V5 adds M-DISC technology
An updated touch-screen laptop dubbed the Aspire V5-561P was also announced to include an M-DISC optical disk drive, a big new selling point for this 15 inch laptop. Anything burned to the M-DISC media will stay secure for years, without signs of fading or deteriorating, says Acer.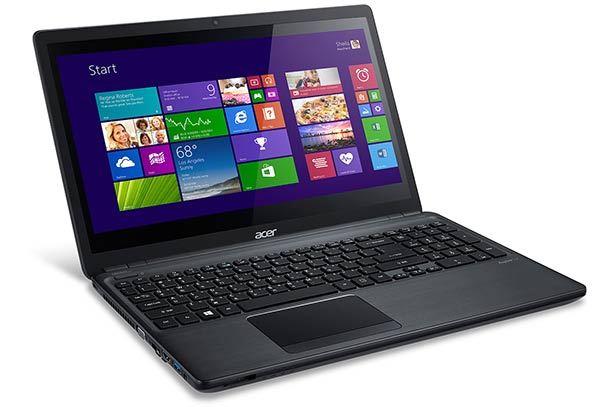 "M-DISC is the only data storage solution to withstand rigorous testing by the U.S. Department of Defence. Even today's leading archival optical discs weren't up to the challenge. M-DISC is resistant to extreme conditions of light, temperature, humidity and more. M-DISC cannot be overwritten, erased or corrupted by natural processes. Best of all, it's compatible with any DVD drive, so you can access your data anywhere, anytime," according to the M-DISC website.
In addition to the above Acer boasts of the touch screen which uses 'Direct Bonding technology' to increase contrast ratio and enhance the viewing and touch experience. This tech brings the display panel nearer to the screen surface. The V5-561P is now available from €599.
Acer Aspire V3 updated with dual-torque hinge
The final Ultrabook update which will be introduced by Acer at CES will be the new Aspire S3. This new model has inherited some of the features of its upmarket cousin - the Aspire S7, though it maintains its more affordable price tag. The new Aspire S3 has a dual-torque hinge design which allows the Full 1080p HD IPS screen to be tilted 180 degrees. The Aspire S3 chassis is also made from aluminium and available with a 'sparkling white' mirror finish.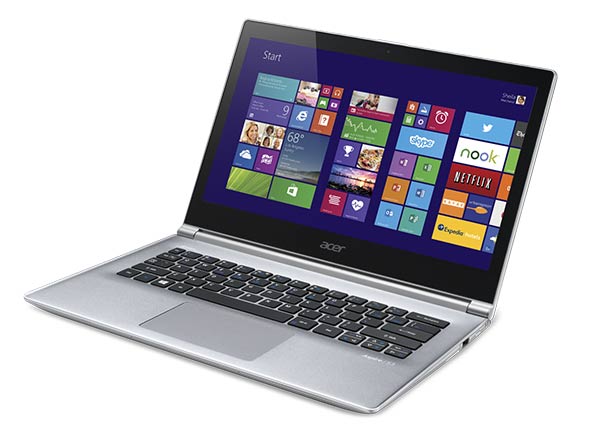 Acer has also updated the Aspire S3 Ultrabook internals with a fourth generation Intel Core processor and NVDIA GeForce GT 735M, so gaming, photo editing and video playback on the Aspire S3 is improved. Prices will start at €999 and it is available with immediate effect across the EMEA region.