Samsung has announced a re-worked ultraportable Series 9 laptop - on a budget. The first new Series 9 Lite laptop has been unveiled; it retains many of the desirable features "the same premium and striking design identity as the ATIV Book 9" but the new version is AMD powered, so it can't be called an Ultrabook. The slim and light ATIV Book 9 Lite price starts at $799 in the US, whereas Series 9 laptops went for $1,000 or more.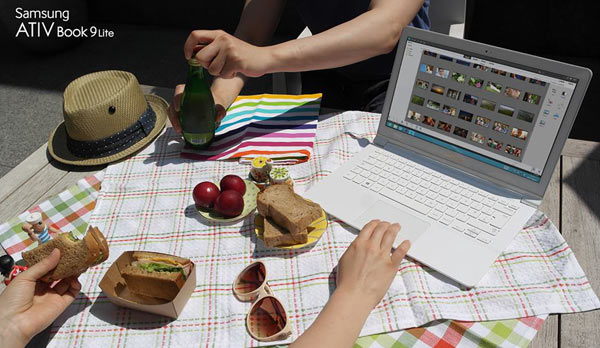 "With the ATIV Book 9 Lite, we created a device that fits the needs of a larger consumer base, while preserving the remarkable design and overall experience delivered by the Book 9 lineage," said Mike Abary, a senior VP at Samsung Electronics America. "To further streamline the computing experience and offer convenience to users, we built an integrated solution, SideSync, to bring together the mobile and PC ecosystems." With its great portability and price Samsung think it's ideal for both mobile consumers and business travellers.
Operating System: Windows 8 (64-bit)
Processor: Quad-Core Processor (up to 1.4GHz), 2MB L2 cache
Display: 13.3-inch LED HD (1366 x 768) with 10-point capacitive touch
System Memory: 4GB DDR3
Storage: 128GB SATA 3 SSD
Graphics: AMD Radeon™ Graphics
Ports: microHDMI, headphone, microphone, 1 USB 2.0 port, 1 USB 3.0 port, SD card reader and Gigabit Ethernet port, 802.11 b/g/n wireless and Bluetooth 4.0
Battery: Up to 5.5 hours
Physical properties: 1.44Kg, 324 x 224 x 17.5 mm (12.76 x 8.82 x 0.69 inches), available in black or white.
SideSync technology
Samsung's SideSync software is installed on this laptop which seeks to provide "a completely integrated experience across their smartphones, tablets and PCs". For instance, when you connect your Galaxy smartphone you will be able to respond to texts using your PC keyboard also you can "view maps, photos and multimedia from their phone on their PC screen; make edits to files on their phone via their ATIV PC; and even drag and drop files from one unit to another." Which sounds very simple and convenient.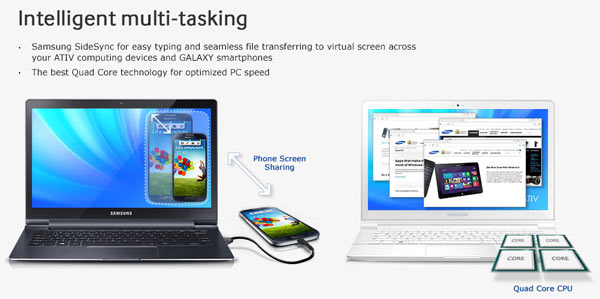 Mystery processor
The machine becomes available at the end of this month and is available for pre-order now in the US, but Samsung are still being cagey about the CPU (APU) that powers it. All we get is that it is a "Quad Core Processor (up to 1.4GHz)" with 2MB L2 CPU Cache and the vague integrated Radeon Graphics detail. PCMag had a hands on with a sample unit. They found the screen to be a bit disappointing and said that the laptop featured a "custom-made AMD quad-core processor" and included discrete graphics. Upon further poking around I think the processor could well be the same AMD Temash A6-1450 with 8W TDP and Radeon HD 8250, as found in the Acer Aspire V5 122P which was investigated here.