Apple has unveiled a new MacBook Pro featuring the very high resolution screen known as the Retina display. The high pixel density (220ppi) display offers over five million pixels within its 15.4 inch diagonal size. The screen resolution, measured in pixels is 2880x1800. We had previously reported rumours of the specs of various Mac models in these WWDC announcements, which have turned out to be correct.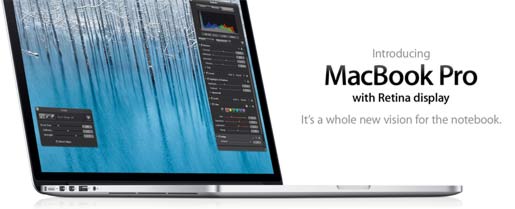 Apple call this the "next generation MacBook Pro". In addition to the exceptional display the computer has been upgraded in several other ways, I'll list the Retina MacBook Pro specifications below to make it easy to see.
2.3 or 2.6GHz quad-core i7 Ivy Bridge CPU
8GB 1600MHz RAM (up to 16GB)
GeForce GT 650M 1GB, Kepler-based graphics card to push the pixels
Intel HD Graphics 4000
256 or 512 GB SSD drive
2 X USB 3.0 ports
2 X Thunderbolt ports
HDMI port
802.11 Wireless, Bluetooth 4.0
7 hours battery life
2.02Kg
1.8cm thick, better than the MacBook Air!
Prices start at £1,799 depending on your chosen CPU/SSD combination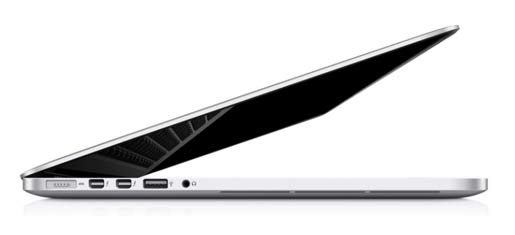 The other new MacBook Pro models announced were the 13 inch and 15 inch Pro models with standard displays with native resolutions of 1280x800 and 1440x900 pixels respectively. Also they are bulkier than the Retina equipped model at 2.41cm thick. These MacBook Pros are all upgraded to use Ivy Bridge processors and the 15 inch model has GeForce GT 650M options.
MacBook Air 11 and 13 inch models have also been updated and both models feature Ivy Bridge i5 processors and the usual accompaniments to that chipset such as USB 3.0 and Intel HD 4000 graphics. These 11 and 13 inch ultra-portables have battery lives of up to 5 and up to 7 hours respectively.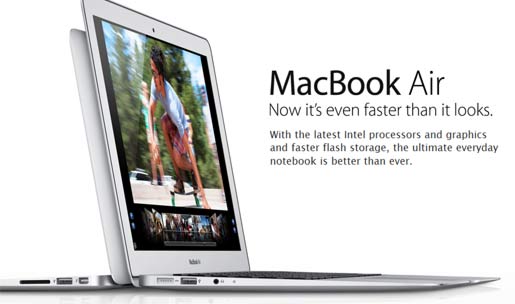 Apple CEO Tim Cook is especially proud of the new MacBook Pros "The next generation Macbook Pro is the most beautiful computer we've ever made. There's never been a notebook that is this gorgeous." Phil Schiller, Apple's senior VP of Marketing, went even further to ask the question to reporters; "Isn't the bottom of our computer prettier than the top of anyone else's computer?" However it's the Retina display that is the headline feature of the new MacBook Pro models. Sharp enough at normal viewing distances so that pixels are not discernible, the biggest Retina display we have seen so far. We can't show that in our screenshots.