At an Acer media conference, held in the lead up to the launch of the Consumer Electronics Show (CES) in Las Vegas which kicks off on Tuesday, the Taiwan-based international computer company revealed a 15mm thick ultrabook that it claims is the "thinnest in the world."
The Acer Aspire S5 has a 13.3 inch LCD screen, weighs less than 1.35kg and sports a black magnesium-aluminium cover. At 15mm thick, the new device is 2mm thinner than the MacBook Pro Air.
Equipped with HDMI, USB3 and Thunderbolt ports via a flip-out panel on the back of the device, it features an Intel 22nm Ivy Bridge CPU and SSD. Acer hasn't priced the Aspire S5 as yet, but has stated that it plans to launch the new model in the second quarter of 2012.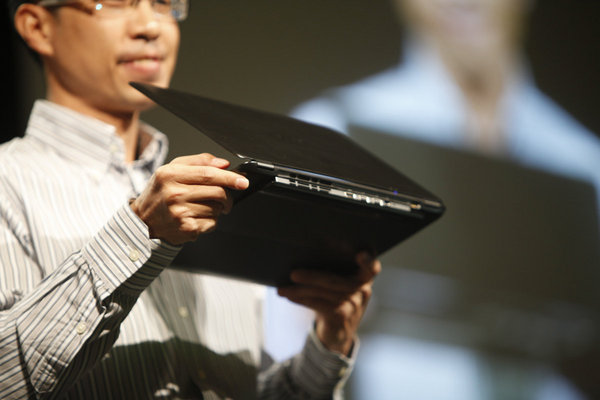 Photo Credit: Matt Rivera/msnbc.com
At CES 2012, Acer also launched the Iconia A700 Tab, a 10.1 inch device featuring a quad-core processor and full-HD (1080p) display. A price and release date for the new tablet is expected to be revealed later in the week.