High-end, high price
Sony historically hasn't messed about when it comes to ultra-portables (its Vaio x505 was years ahead of its time), and its latest Vaio Z is no exception, cramming surprisingly high-end components into its slender form.
The Vaio Z packs a 13.3in display with a 1,600 x 900 pixel resolution into its frame, which measures just 16.7mm thick and, thanks to carbon fibre construction, weights under 1.2Kg. Inside, the base specification offers a 2.3GHz Core i5 2410M CPU and 4GB of DDR3 RAM, in addition to a 128GB SSD. The Vaio Z claims seven hours of battery life from its built in unit, with an external slice doubling that to 14-hours, though of course adding a fair amount of weight in the process.
The Vaio Z has an optional Power Media Dock connected by what Sony cannot call Thunderbolt, as Apple has trademarked the name, so instead it referred as "the architecture codenamed 'Light Peak.'" Primarily the PMD boosts the Vaio Z's internal graphics with its 1GB AMD Radeon HD 6650M, though the addition of a DVD drive, Blu-ray reader or Blu-ray writer a pair of USB 2.0 ports and a USB 3.0 port won't go amiss, either. The PMD even supports 3D output via HDMI.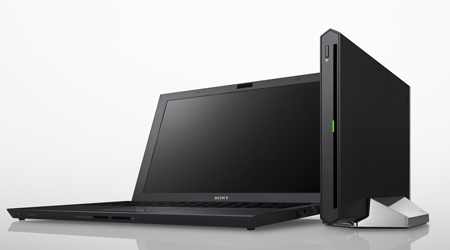 Prices start at £1,434 without a dock, can approach close to £4,000 quick quickly if some of the more expensive upgrade options are added. Those you might actually consider are upgrading to a 1,920 x 1,080 pixel display (only £40), adding built-in HSDPA connectivity (£100), adding a backlit keyboard (£15), doubling the RAM to 8GB (£110), and adding an optional battery slice (£60).
Options most will probably stay clear of include stepping up the CPU options (moving to a 2.6GHz Core i5 2540M is £100 and a 2.7GHz Core i7 2620M is a further £80 on top of that). Helping buyers really push the boat out, however, are the Vaio Z's SSD options, with a 256GB unit costing £410 and 512GB hitting a £1,15; and if that's not enough 'Gen3' versions (which claim faster file access) are available for a further £20.
The Power Media Dock is fairly pricey, too, with the DVD, Blu-ray reader and Blu-ray writer versions coming in at £400, £350 and £525 respectively. Nonetheless, the improved graphics power and extra connectivity means it effectively turns the Vaio Z into a desktop PC when connected, so it's not an outrageous purchase.
If you're tempted, the Vaio Z is on sale now at the Sony Store, and will likely hit other retailers shortly.