You've seen a few rugged notebooks down the years, but Panasonic reckons this - the Toughbook CF-31 - is the granddaddy of them all.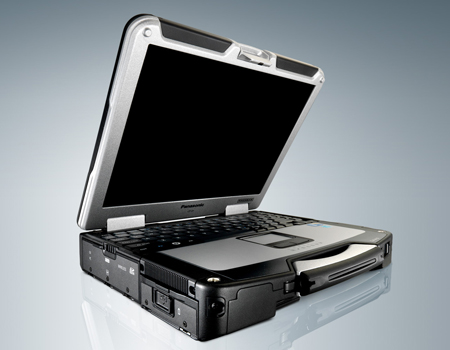 Arriving as the successor to the CF-30, the fifth-generation model makes use of Panasonic's decade of Toughbook experience and claims to be ideal for use in "the most extreme" computing environments.
Available in three flavours - Value, Standard and Performance - the CF-31 offers a choice of Intel Core i3 or Core i5 processors, with the option to add an ATI Mobility Radeon HD 5650 GPU on top of the integrated Intel HD graphics.
Performance has certainly improved, then, but it's the hard-as-nails packaging that makes the Toughbook CF-31 stand out. Built using an anti-scratch and thermally reflective magnesium alloy, the notebook's been awarded an MIL STD 810G rating - which to non-military folks means it's now more resilient than ever to water, dust, vibration and temperature.
The notebook is drop tested at heights of up to 6ft, so you needn't worry about everyday shock, and the standard battery claims to offer up to 11.5 hours of usage from a single charge.
Outdoor usability is of course a priority, and Panasonic has you covered with a 13.1in low-reflection, touchscreen LCD rated at 1,100 nits. Other features include four USB ports, HDMI out, Wi-Fi and Bluetooth connectivity as standard, and optional WiMAX.
What's the going rate for a seemingly indestructible notebook? Pricing for a Standard model starts at £3,912. Just want to see it being abused? Here's Panasonic throwing the Toughbook CF-31 from the deck of the USS Intrepid: