Google launched the Pixel 4 and Pixel 4 XL smartphones at its Made by Google 2019 event yesterday, and they were the headline grabbers and main attraction for some. However, the event saw quite a wide range of smart accessories and smart home devices revealed.
Of particular interest for the buyers of 3.5mm jack-less phones like the Pixel 4 / 4XL, might be wireless earbuds. Shipping from spring 2020, the new Pixel Buds have a price of $179. These earphones have a battery life of approx five hours, with the carry-case charger providing an additional 24 hours. On-board mics can cancel out background noise such as wind.

Another Pixel branded product at the reveal event was the new 13.3-inch touchscreen Pixelbook Go. This is claimed to offer a compelling mix of portability and keen pricing. I think it lives up to the first claim, with its sub kilogram weight and 13mm thickness, however its starting price of $649 (£629) doesn't tempt.

There are quite a wide range of specs to decide upon, with the entry level option including an Intel Core m3 processor, 8GB of Ram and 64GB of storage, moving up through Core i5 versions with expanded RAM and storage to a Core i7 version with 16GB RAM, 256GB storage and a 4K display for £1,329.
There are some premium features beyond the thinness and lightness of the machine; it offers a touchscreen, a "finely painted magnesium casing," 12 hours of battery life with fast charging (2hrs use from 20 mins charge), plus backlit 'Hush Keys'. This laptop isn't available yet and Google asks you to sign up for a waiting list if you are interested.
A couple of Nest-branded products were announced by Google too. The Nest Mini smart speaker is an updated version of the Google Home Mini. The device is now wall mountable, without buying any fitment / adapter. It includes a new machine learning chip inside for faster user response, and more microphones improve the device along the same vector. Important for many users will be the upgraded sound which offers "twice the bass," according to Google.
The Google Nest Mini is available for pre-order from $49 (£49), with product availability scheduled for 22nd October.
Last but not least we have Nest Wi-Fi looking for space in your connected home. Mixing the charms of the Google Wi-Fi mesh router with Google Home speakers produces this new product category. Pricing starts at £129 and Google will be selling twin and triple packs for more thorough home Wi-Fi extension and smart speaker presence.
You are asked to join a waiting list for more info on this product, which should start to become available from November.
Google Daydream View VR headset discontinued
Google giveth and it taketh away the Google Daydream View VR headset. At the event yesterday a Google spokesperson confirmed to Variety that the latest flagship Pixel 4 flagship phone won't support Google's Daydream mobile VR platform. Furthermore, the Daydream viewer won't be sold any more - though existing users will continue to receive support.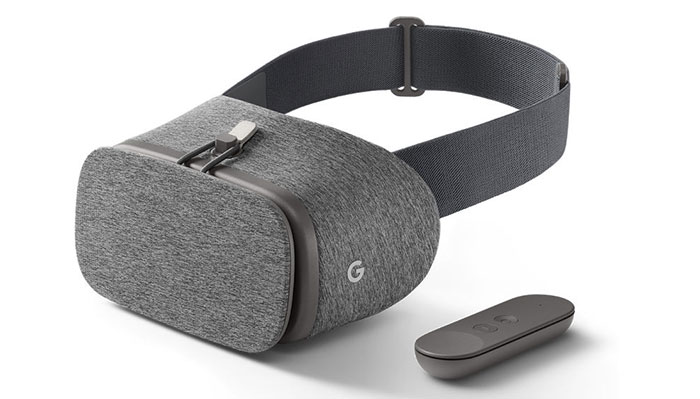 It was explained that "There hasn't been the broad consumer or developer adoption we had hoped, and we've seen decreasing usage over time of the Daydream View headset," and thus is it a dead duck.