HEXUS previously reported upon Apple's admission of issues with its butterfly keyswitch mechanism in late June. The firm buckled under consumer pressure to offer free servicing and repair to all the laptops that have come packing these keyswitches since they were introduced.
Late last week Apple launched (scroll down) its new MacBook Pro laptops featuring up-to 6-core processors and 32GB of memory, True Tone displays, and the Apple T2 chip (for enhanced security). Another officially highlighted improvement concerned the keyboard. "Your workspace just got quieter," wrote Apple. It went on to repeat the claimed advantages of the butterfly mechanism over a traditional scissor mechanism; "four times more key stability… with greater comfort", but didn't mention anything about addressing the recently newsworthy dust/particle ingress issues.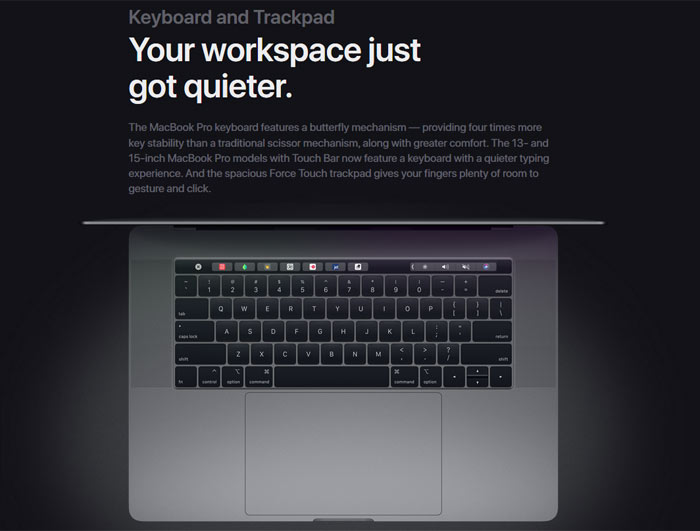 It turns out that Apple was just trying to put a positive spin on a fix for an awkward issue. iFixIt, famous for its meticulous tech tear-downs, was keen to check out the new improved keyboard. It said it was too excited to hold back this news for its full-analysis article so it published 'The great Apple keyboard cover-up' just ahead of the weekend. In the article it surmised that "Apple's new quieter keyboard is actually a silent scheme to fix their keyboard reliability issues." Another respected tech site, Thurrott.com, reckons the silicone membrane is a "lousy attempt," at fixing the keyboard issues.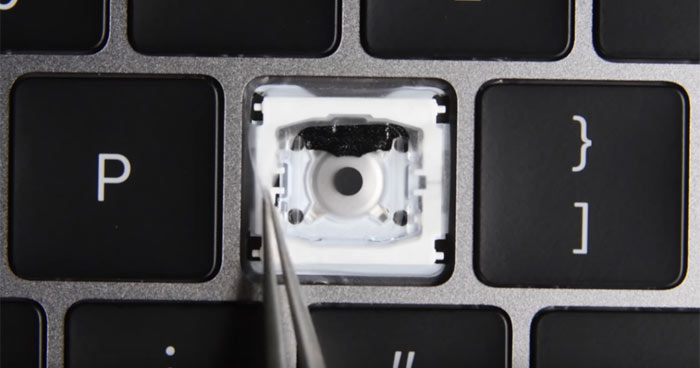 As you can see above, Apple has covered up the main part of the butterfly switch mechanism with a thin silicone barrier. Apple had previously patented technology designed to "prevent and/or alleviate contaminant ingress." However, coinciding with the new MacBook Pro launch, Apple told The Verge that "this new third-generation keyboard wasn't designed to solve those [dust] issues." That seems like a legal/political spin on the true intentions.
It will be interesting to find out if Apple has actually solved the dust ingress issue. For that to be seen in real life usage tests might take several months. One wonders how long this membrane will last, too. iFixIt will put the updated keyboard through some ingress tests later this week, it has promised.