Microsoft's current range of Surface tablet convertible devices concentrate on the premium end of the market. The current Surface Pro starts at £799 (US$799) for the Intel Core m3 model with HD Graphics 615, 4GB of RAM, and 128GB SSD. Configurations cost as much as £2,699 (again dollar equivalence) for a device kitted out with an i7 chip packing Iris graphics, 16GB of RAM, 1TB SSD.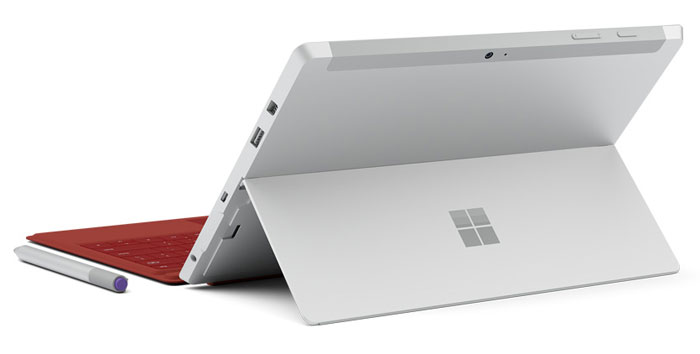 The Surface 3 showing typical Surface edges / angular design
Now Redmond is looking for a hit in the cheaper end of the market to compete with Apple's iPad and iPad Pro devices. Microsoft has previously produced cheaper / smaller Surface tablets like the RT devices and the Atom-powered Surface 3 and now it has decided to try again, reports Bloomberg.
The report says that the new cheaper Surface devices will sport a 10-inch screen and feature Intel processors and graphics. Aiming for the cheaper sets, it would not be surprising to see Microsoft spec an Intel Celeron or Pentium chip but it is possible with could go with an m3 or i3 too.
Other interesting nuggets shared by the source include the suggestion that the new smaller Surface tablets will come with a refreshed design with more rounded corners. They are expected to be equipped with USB Type-C connectors for data and charging duties, which is a first for Surface tablets.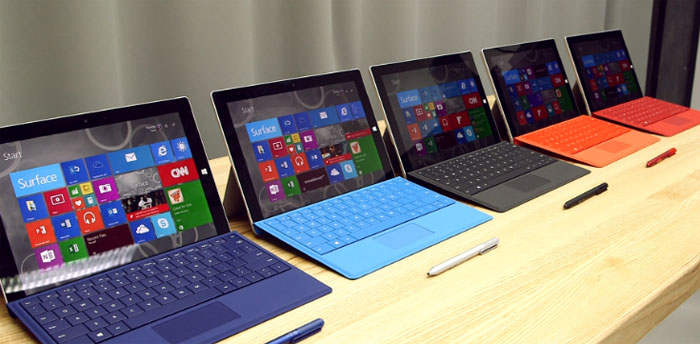 Thanks to their smaller form factor the new Surface tablets will be about 20 per cent lighter than a Surface Pro. However, the bad news is that battery life will be approx four hours shorter. As the current Surface Pro can last approx 13.5 hours on a charge, it sounds like Microsoft is aiming for a 10 hour standard for the new devices. The new tablets will ship with Windows 10 Pro installed.
Looking at the competitive landscape; Microsoft sold approx 725,000 tablets in Q1 2018 while Apple has sold an average 11 million iPads per quarter over the last year. Surface tablet sales were up 1.8 per cent in the most recent quarter and the entire Surface hardware business brought in $4.4 billion over the last year. Meanwhile, the third big competitor in this space, Google, is continuing to refine its ChromeOS offerings with touch friendly 2-in-1s which can run Android apps.