Acer's highly anticipated Predator 21 X gaming laptop has started to become available in select markets worldwide. The world's first curved screen gaming laptop was launched back at CES 2017 in January with the stated intention of it becoming available during Q1. On Wednesday it was launched on the home turf of Taiwan starting at NT$299,000 (US$9,898) which includes free customisation and setup from an Acer engineer.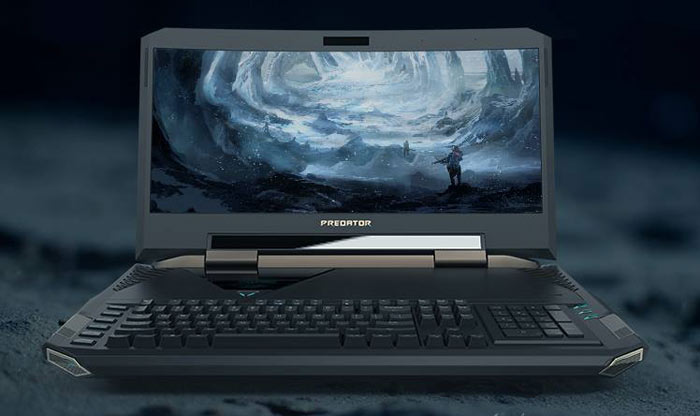 Acer's Predator 21 X is designed with the industrial design school philosophy that 'more is more'. This 'Beyond Horizons' machine is gargantuan for a laptop, being based around a 2000R curved 21-inch IPS technology G-Sync display. It weighs in at 19.4-pounds (8.8Kg) and measures 3.3-inches thick by 22.4-inches wide and 12.4-inches deep.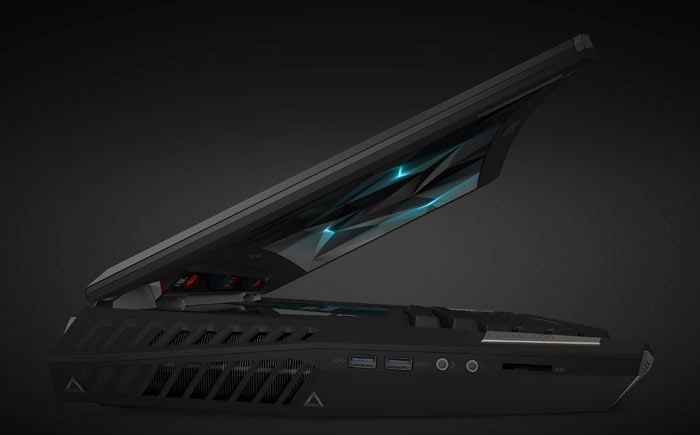 Inside its hefty form Acer has packed some of the most powerful PC components available at the time it was created. Some might say that the signature curved 21-inch screen could be significantly improved if it were 1440p or even 2160p (4K) panel, like many a rival gaming laptop offers, but for others the 2560 x 1080 pixel screen will be the perfect choice at that physical size. Full specifications of the Acer Predator 21 X are in bullet points below:
Processor: Intel Core i7-7820HK (4C/8T) with base 2.9GHz / boost 3.9GHz
Standard memory: 32GB DDR4 (up to 64GB)
Storage: 1TB HDD plus 1TD SSD (configure up to 4 x 512GB PCI-E SSDs in RAID 0 plus a 1TB SATA HDD)
Screen: 21-inch (2560 x 1080) IPS 120Hz G-Sync ready screen with 2000R curvature
Graphics: dual Nvidia GeForce GTX 1080s in SLI
Built-in peripherals: Tobii Eye Tracking Technology, Cherry Mechanical MX Brown keyboard with RGB backlighting, Flip over touchpad / numpad module, SuperMulti DVD-RW drive
Sound: Dolby Audio 4 Speakers & 2 Subwoofers with 3-way Audio
Ports etc: Gigabit Ethernet, an SD card reader, 1x USB 3.1 port, 1x USB Type-C (Gen 2) port, 3x USB 3.0 ports, plus HDMI and 2x DisplayPort outs
Cooling: 5x ultrathin AeroBlade fans and 9x heatpipes
Construction: sandblasted aluminium chassis is Abyssal Black

Acer says that it has received strong pre-orders for the Predator 21 X in Taiwan. The product pages are live in the US but there seem to be no purchase options stateside as yet. US pricing starts at $8,999. Buyers of the Compal-manufactured device get a 3-year warranty.