A newly concluded investigation by Which? magazine has found that "the battery life claimed by laptop manufacturers rarely lives up to reality". The well known consumer magazine tested 67 modern laptops over the past year and has squirreled away this battery stamina data which shows that almost all laptop makers overstate the battery life available to user. Sometimes battery estimates were not just minutes but hours in deficit, some batteries only lasted half of their claimed endurance.
The Which? tests are use a standard method of actively browsing the web over Wi-Fi and the battery is run through the tests at least three times from full capacity until it is completely drained. Unfortunately Which? doesn't detail its standard settings such as brightness, or what browsing software was used - these things can have a big impact.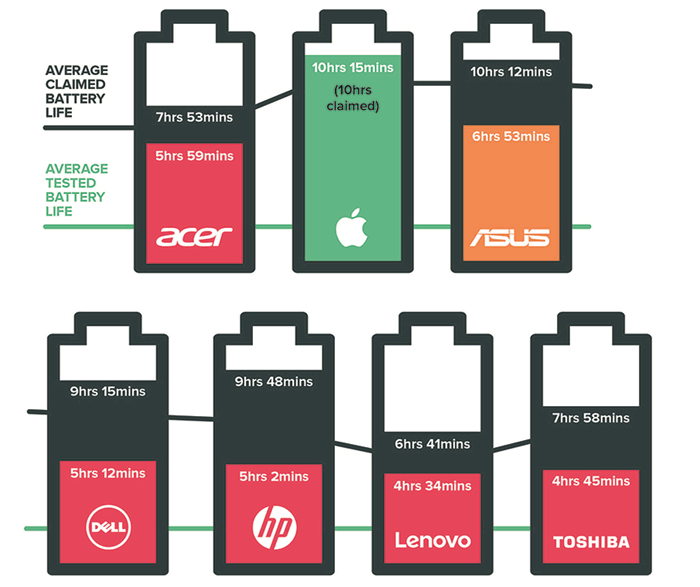 Chart from Which? magazine
Above you can see the distillation of the magazine's 67 tests into chart form. You might initially think the Apple battery is unfairly highlighted in green but that colour simply represents that it, on average, exceeded the claimed battery life. For Windows laptops Asus looked the best with its actual figure for battery stamina nearly an hour longer than closest next placed rival Acer. The Which? tests stats were compiled from the following machines (number of reviews in brackets): Acer (8); Apple (3), Asus (8), Dell (10), HP (12), Lenovo (20), Toshiba (6).
After reaching out to the laptop manufacturers Which? received a range explanations that you might expect. For example Dell mentioned that "every individual uses their PC differently," and HP said its own tests were accurate and run using "real life scripts and runs on real applications like Microsoft office."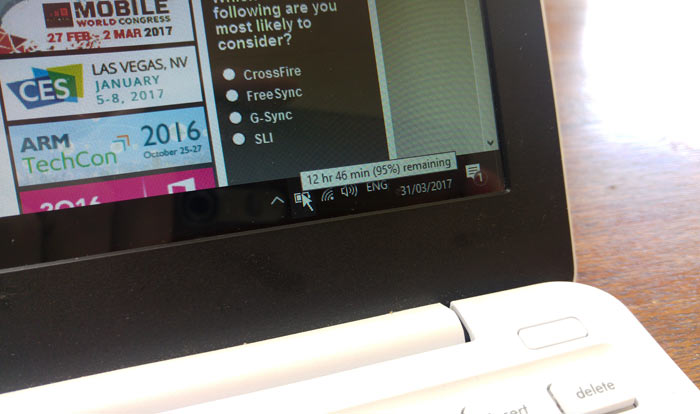 If you are in the market for a laptop then it's wise to seek out reviews, and doubly wise to look closely at reviewer battery life tests. HEXUS always includes a real-world Power Draw and Battery Life section in laptop reviews - including charts for video encoding, gaming, and general use where appropriate.