Porsche Design has launched a premium aluminium 2-in-1 convertible Windows 10 PC. The Porsche Design BOOK ONE boasts a high resolution 13.3-inch QHD+ IPS touch display, a powerful 7th-generation Intel Core i7-7500U processor, and 512GB Intel SSD - in a sleek, adaptable and portable package.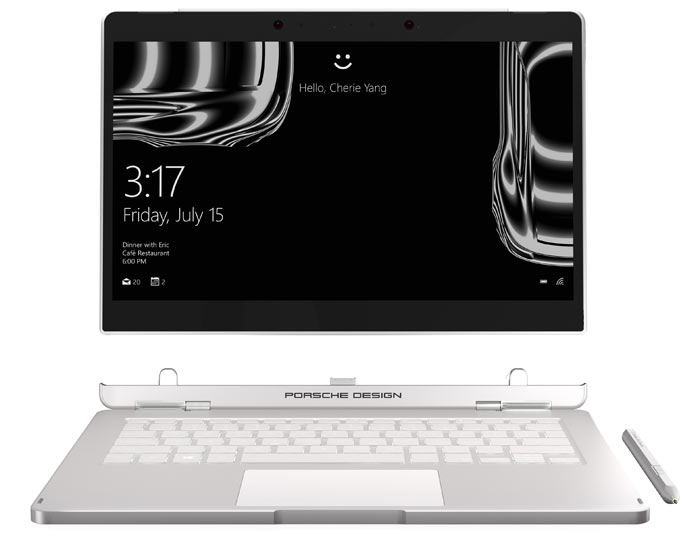 This premium 2-in-1 is constructed with a milled aluminium housing which has a matte anodized finish. Interestingly Porsche has designed the BOOK ONE with a display portion that is both detachable and can be rotated 360 degrees. Its hinge is designed and patented by Studio F. A. Porsche and its stainless steel cog wheels inspired by a sports car transmission. Thus this 2-in-1 offers tablet mode, laptop mode, tent mode and presentation mode, if not more.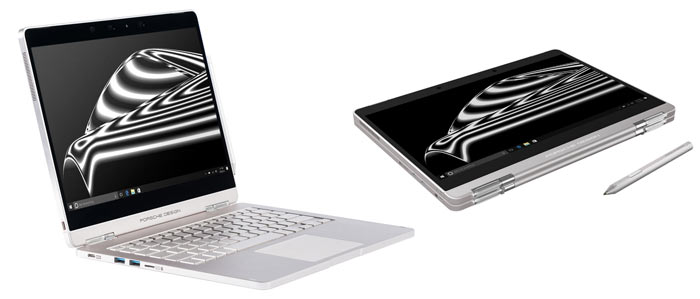 Both the 3200 x 1800 pixel display and the touchpad can be used as precision, multi-gesture control interfaces. Porsche supplies a matching aluminium finished pen optimised for Windows Ink, that magnetically docks with the 2-in-1. Furthermore the designers have equipped a keyboard with intelligently dimming backlit keys.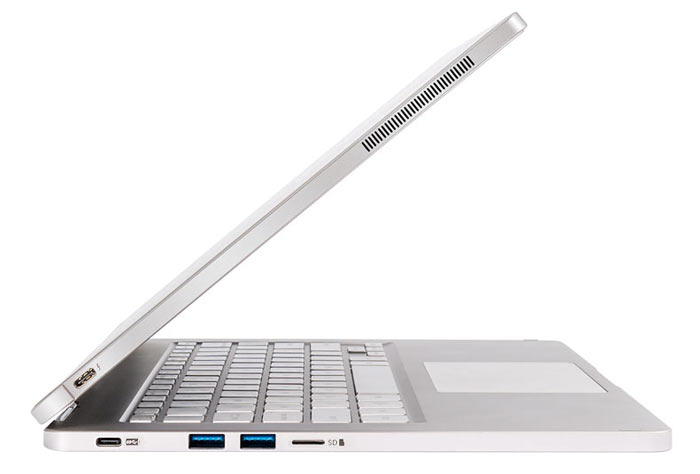 Porsche Design BOOK ONE specs
High performance: The powerful 7th-generation Intel Core i7-7500U processor, which clocks in at up to 3.5GHz, is able to maximize its potential thanks to the computer's 16 GB of RAM.
Fast data storage: The noiseless Intel®, SSD with a storage capacity of 512 GB, guarantees fast data storage via the PCIe slot.
Eye-popping resolution: With a resolution of 3200 x 1800 pixels, the 13.3-inch QHD+ IPS display is built to impress, whether working, surfing the web, or simply watching the latest movie.
Convenient connections: The variety of available ports offered includes two multifunctional USB Type-C ports, two full-size USB 3.0 ports, and USB 3.1 Type-C/Thunderbolt 3 port, which not only powers a variety of USB peripherals with just a single cable. It also guarantees fast, hassle-free data exchange, and allows wired image transmission in accordance with the DisplayPort standard. The 2in1 communicates wirelessly via dual-band Wi-Fi and Bluetooth.
Biometric authentication: A more secure and simplified login procedure is enabled thanks to the 5-MP camera with infrared sensor, which is seamlessly integrated into the front of the housing and allows biometric authentication using Windows Hello facial recognition software.

As you might expect, the above machine doesn't come cheap. Porsche will make its BOOK ONE available in 17 countries starting from April 2017. In the UK it will be priced at £2,395, USA $2,495, and Europe either €2,795 or €2,895 depending upon country.