Despite not using MWC 2017 as a platform for launching its Galaxy S8 smartphone, Samsung still has a presence and a number of new devices to show off. The most interesting Samsung device revealed so far is probably the Galaxy Book, designed in close collaboration with Microsoft - so yes it's a Windows 10 powered device. We first caught a whiff of this upcoming launch a week ago when the Windows 10 Galaxy Book companion app was released to the Windows Store.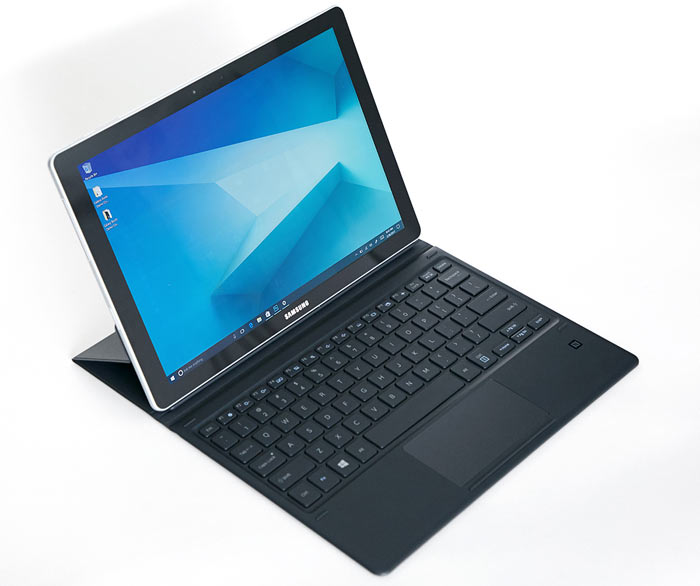 Samsung has launched two flavours of the Galaxy Book. They differ in screen size and quite a few other specifications so are rather different propositions. I think it's clearest to show the specs and the differences in a table, so have a look at the one embedded below.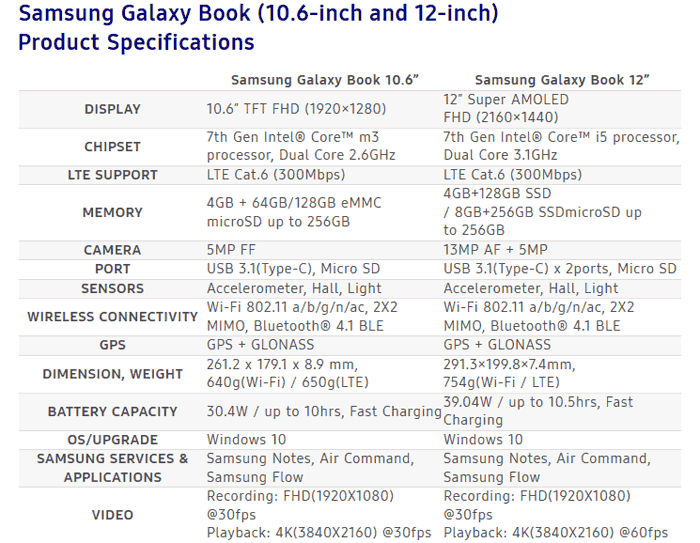 The Samsung Galaxy Book is a 'premium' 2-in-1 aimed at mobile enterprise and delivering "unmatched productivity for the professional on-the-go," so it won't be cheap. Whichever size of device you choose they are both eminently portable and offer fast mobile connectivity with a LTE Cat.6 option, as well as 802.11 ac MIMO Wi-Fi, and Bluetooth 4.1.
Both the new Galaxy Book devices have features important to what Samsung and Microsoft see as the future of mobile computing. They have touch screens, and styli for Windows Ink or markup and drawing on websites in Microsoft Edge. Interestingly the S-Pen equipped uses the Tilt SDK which should appeal to artists for its advanced shading and brushstrokes.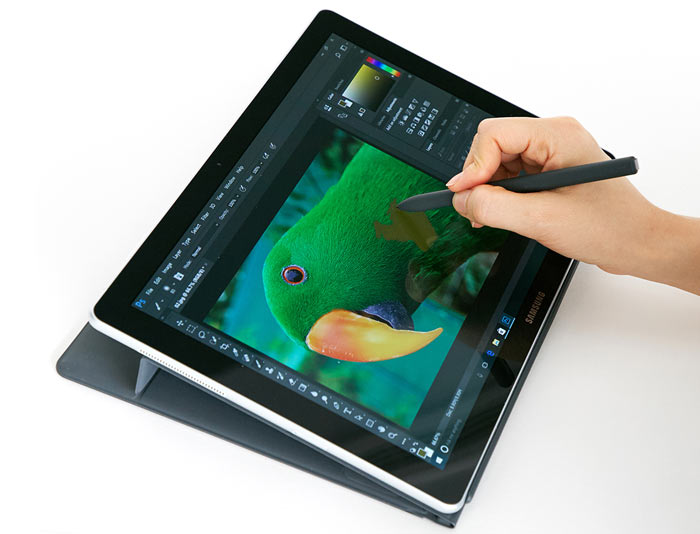 Samsung Flow is said to be improved thanks to Microsoft input. It is a system where a Samsung Galaxy smartphone and Galaxy Book 2-in-1 can 'seamlessly' share data. It also allows Book users to use their full sized keyboards to respond to smartphone notifications, for example.
What about the differences between the two Samsung Galaxy Book devices? First of all, obviously, the screens are different. As well as using a bigger 12-inch screen the larger device employs an AMOLED panel with a higher resolution - instead of 1080p its 1440p. The larger Galaxy Book also has a much more powerful processor: a seventh gen Core i5 rather than the Core M. Furthermore memory and storage options are more expansive. Important to some will be the better cameras on the bigger machine. Lastly Samsung has balanced the battery capacities so that both the 10.6-inch and 12-inch machine offer around 10 hours of battery life.
Samsung Galaxy S8
If you are waiting for news of S8, Samsung has announced its Samsung Galaxy Unpacked 2017 event on 29th March 2017 at 11.00am EDT in New York. The invite hints at a smartphone with minimum bezels. The Galaxy S8 will be unveiled at that time and the event will be livestreamed.