Acer has been showing off its new PCs and accessories at the CES 2017. All the products on show are from either the Aspire or Predator range, which encompass performance and entertainment PCs, and gaming PCs and monitors respectively.
Acer Aspire
Four Aspire PCs were shown; the Acer Aspire V Nitro (15- and 17-inch versions), the Aspire VX laptop, and the Aspire GX desktop. All the laptops come equipped with a 7th Generation Intel Core i7-7700HQ processor.
Acer's Aspire V Nitro machines utilise (up to) Nvidia GeForce GTX 1060 graphics cards with 6GB of dedicated GDDR5. They ship with up to 16GB of DDR4 system memory, user upgradable to 32GB using two soDIMM modules. NVMe PCIe Gen 3, or SATA SSD, and up to 2TB HDD storage options are available. A finger print reader is equipped for easy and fast access to your laptop. If you are interested in the 17-inch Nitro then there is an option to equip a Tobii eye-tracking module. Both Nitro models are available from Feb, priced from $1,199 / €1,299 (15- and 17-inch models have the same starting price).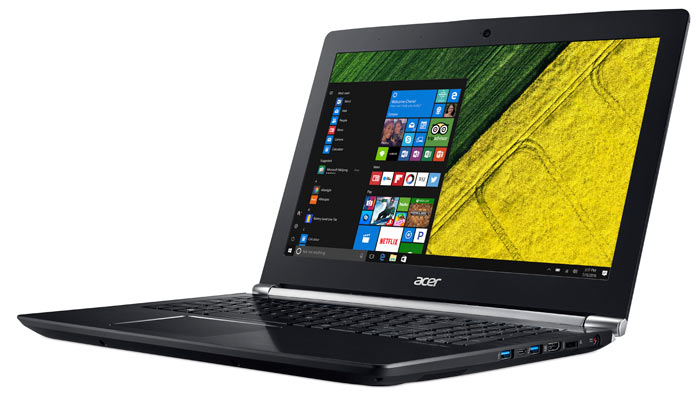 The Acer Aspire VX 15 lowers the spec for a more accessible price (available from January $799 / €899). As mentioned above, it shares the same Kaby Lake i7 CPU choice as the Nitro models. However, it cuts down on GPU power with user choice limited to GTX 1050 / 1050Ti graphics. This 2.5Kg machine comes equipped with up to 16GB of DDR4 RAM which is user upgradeable to 32GB. Storage equipped is split between a 512GB SSD and 1TB HDD.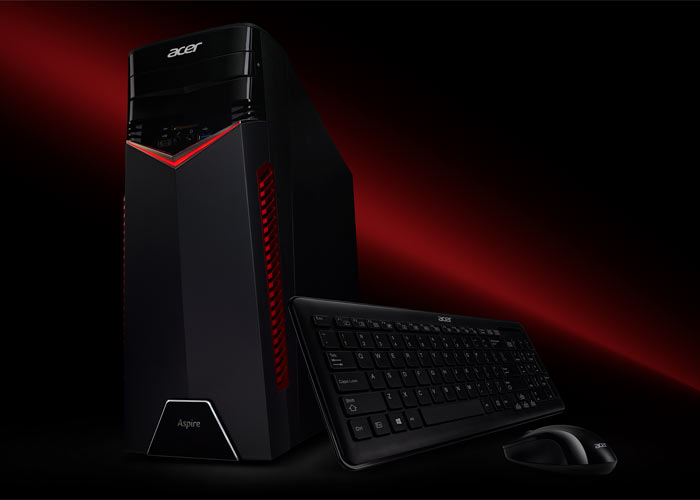 If you want a new pre-built performance desktop, Acer hopes you will consider a new Aspire GX series desktop PC. Buyers can configure this red and black tower system with a 7th Generation Intel Core processor, up to 64GB of DDR4 RAM, and up to an Nvidia GeForce GTX 1070 graphics card. This is an off-the-shelf PC that could easily tackle VR and 4K entertainment. Available from Feb, the Aspire GX will be priced from €799.
Acer Predator
These Predator devices have an unashamed gaming focus. Two gaming laptops are being shown off by Acer; the Predator 21 X, and the Predator 17 X. There's also a trio of gaming monitors that are new.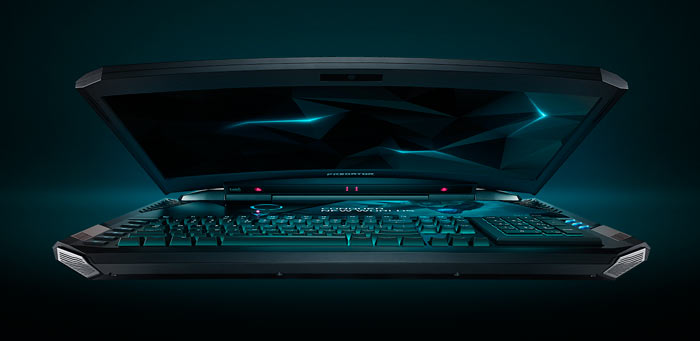 Acer's Predator 21 X is, yes you guessed it, a 21-inch laptop, and it uses a curved IPS G-Sync screen to boot. We've seen earlier reports of this machine from back in August. Backing up that screen real estate we have a powerful set of components which include; the latest 7th Generation Intel Core i7-7820HK processor, dual NVIDIA GeForce GTX 1080 GPUs in SLI.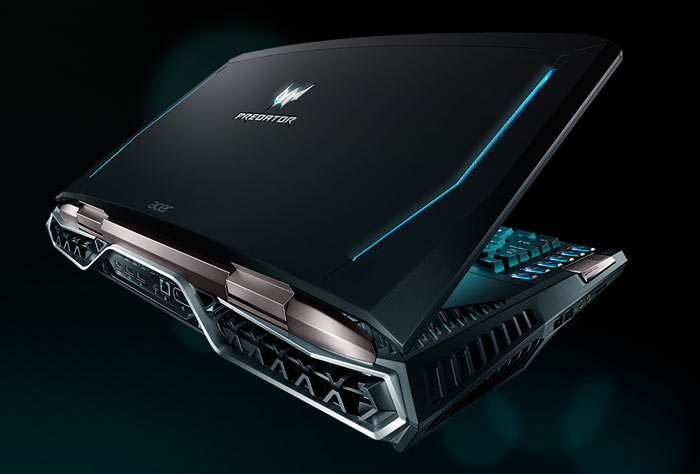 Other key features of the Predator 21 X are; a full-sized mechanical keyboard featuring Cherry MX Brown switches with RGB backlighting, the numpad flips over to act as a touchpad, tweeter - midrange - woofer audio design, Thunderbolt 3, plus an advanced cooling system of 5 system fans, 9 heat pipes and Acer Dust Defender.
The Acer Predator 21 X is expected to become available in Feb priced at $8,999 / €9,999.
Acer's other Predator in focus is a refreshed Predator 17 X gaming laptop. Both CPU and GPU have received upgrade attention. From later this month you will be able to get a Predator 17X with a 7th Gen Intel Core i7-7820HK processor and an Nvidia GeForce GTX 1080 GPU. This laptop allows overclocking and its 17.3-inch G-SYNC Full HD (1920 x 1080) or UHD (4K 3840 x 2160) display is of the IPS type. Pricing for this refreshed edition is from $2,599 / €2,999.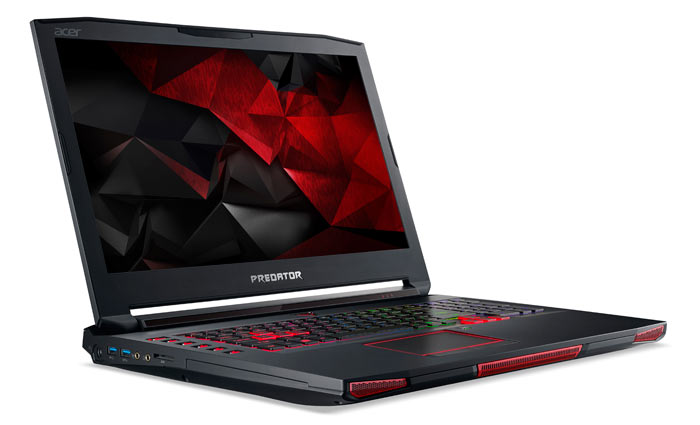 Acer's new Predator monitors are all G-Sync equipped and are spearheaded by the Acer Predator Z301CT with 30-inch 21:9 1800R curved FHD 200Hz display plus eye-tracking functionality. It will be priced at $899 / €899 and be available from Feb.
The Acer Predator XB252Q ($549.99 / €599) and Predator XB272 ($679.99 / €699) both use a Full HD 1ms display with a top 240Hz refresh rate, simply differing in screen size (24.5- and 27-inches respectively). Both become available next month.