Apple has a history of developing its own hardware going way back to its origins. Though it has always relied upon key components from various third parties sometimes they come with Apple specific interfaces and other different specifications. In recent years it has done well claiming a mobile advantage via its A-series processor designs; a custom SoC based upon ARM cores and PowerVR graphics. (Apple has near to a 10 per cent stake in Imagination Technologies). Now it may be seeking to differentiate further and work its magic in screen technology, graphics processing units and other key device semiconductor components.
Reviewing the above news in chronological order, last week we first heard the rumours that Apple was developing its own GPU for its A-series chips. Controlling the GPU design "could let Apple further optimize the efficiency and power consumption of its devices," reported Apple Insider. It is noted that the recently released iPad Pro A9X SoC includes a 12-core GPU design built by TSMC unlike any Imagination Technologies Series7XT graphics off-the-peg designs. As mentioned in the intro, Apple has a strong relationship with Imagination, so it would be a considerable step to cut the cord with the chip designer.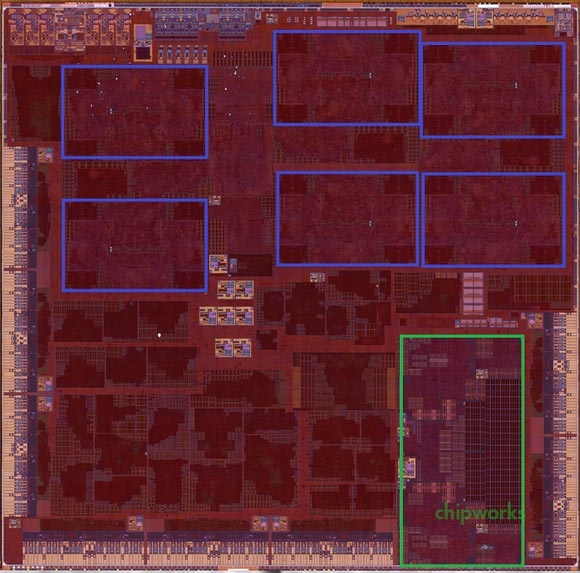 Chipworks x-ray of the Apple A9X, via Motley Fool
On Monday The Silicon Valley Business Journal exclusively revealed that Apple had just bought a former chip fabrication facility in San Jose, in the south Silicon Valley area. It paid $18.2 million for the facility, once a manufacturing base for Maxim Integrated Products. Apparently the facility is "Well suited for prototype, pilot, and low-volume manufacturing, this facility is capable of producing a wide array of products at multiple technology nodes ranging from 600nm to 90nm, with the bulk of production from 350nm to 180nm."
Experts speaking to the paper said that the facility would likely be used for 'heavy R&D' as its "pretty small for a fab", but would be acceptable for prototyping, tweaking and so on.
Carrying on the theme of Apple acquiring components makers and facilities, Bloomberg reporters were agog yesterday to discover that Apple has a 'top secret lab' in Longtan, Taiwan. The lab is said to be nondescript, you would have no idea of who runs or owns it until you get into reception where you start to see Apple corporate identity. Unsurprisingly the receptionists wouldn't tell the uninvited reporter any details about what is happening in the plant or let him pass deeper into the facility.
A little bit of digging revealed that the Longtan lab was once owned/run by Qualcomm. There are said to be about 50 engineers working at the facility. A couple of weeks ago we learned that Apple would shift to using OLED displays in several of its key products, so this could be a technology under scrutiny at the lab. Apple currently only furnishes its Watch with this type of display.