Yesterday, Texas Instruments unveiled its new Sitara AM335x line of ARM Cortex-A8 processors, starting from as little as $5.
This is a key announcement in the world of ARM as $5 falls in the price bracket of the much less powerful ARM9 processor, which is now typically seen as a co-processor to modern devices, whereas you can find a Cortex-A8 powering devices as recent as the iPhone 4.
The new line of chips is targeted at integrated systems developers and includes support for a plethora of protocols and interfaces that hobbyists will find very familiar such as I2C, UART, SPI, PWM, 12-bit ADC and CAN. Many of these interfaces are not typically found on an application processor such as the A8 and would require one or more chips to supply these missing elements. TI also includes two 200MHz real-time sub-cores for complex and time-critical I/O operations, a role typically handled by ARM9 co-processors. This move from TI greatly reduces the cost and size of an integrated system.
Hi-speed USB 2.0 and Gigabit Ethernet are also natively present on these chips along with an LCD controller powered by an SGX530 graphics core available on some models, with high-end 720MHz Sitara AM3358/9 CPUs likely to have performance somewhere in-line with an iPhone 3GS. It's worth noting that the Sitara AM335x range does not supply a standard camera interface.
This is an exciting announcement for commercial and hobbyist integrated systems developers alike, as it opens the doorway to projects of greater scope at a lower cost and size. To add to this excitement, popular developer-PCB maker BeagleBoard.org has announced a new product, the BeagleBone, based on TI's new Sitara AM335x CPU, which will retail for only £62 ($89).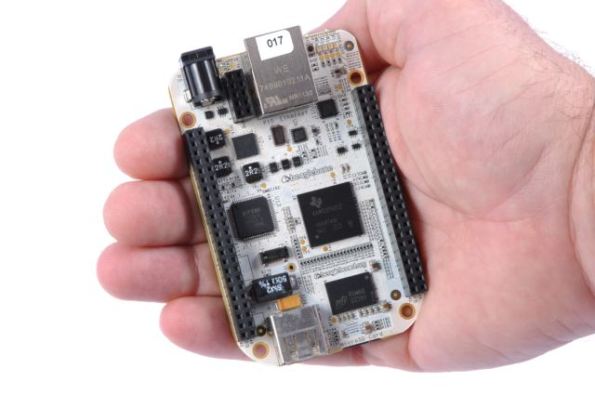 Almost as small as a credit-card, the BeagleBone provides USB 2.0 and Ethernet headers, a Sitara AM3358/9 CPU, 256MB DDR2 RAM and a 2GB microSD card. An expansion board will be required for direct video output, with HDMI, DVI, VGA and LCD offerings expected. Almost all chip interfaces are exposed on standard headers at the industry standard voltage of 3.3v. Unlike other BeagleBoard offerings, the BeagleBone is not subsidised by TI and the pricing is indicative of a typical high-volume order, with components chosen specifically to be easier to work with on simple and custom designs.
TI provides excellent free software solutions for this line of CPUs and the folks over at BeagleBoard.org will be shipping the device with a rather interesting programming paradigm as standard.
The BeagleBone is expected to ship before the end of November.