Inno3D has revealed the first GeForce GTX 1060 graphics card that will ship with a factory fitted hybrid (air and liquid) cooler. The Inno3D GeForce GTX 1060 iChill Black follows in the footsteps of previous high-end launches of GTX 1080 (and GTX 1070) iChill Black graphics cards fitted with the same 'Accelero Hybrid S' AiO cooler.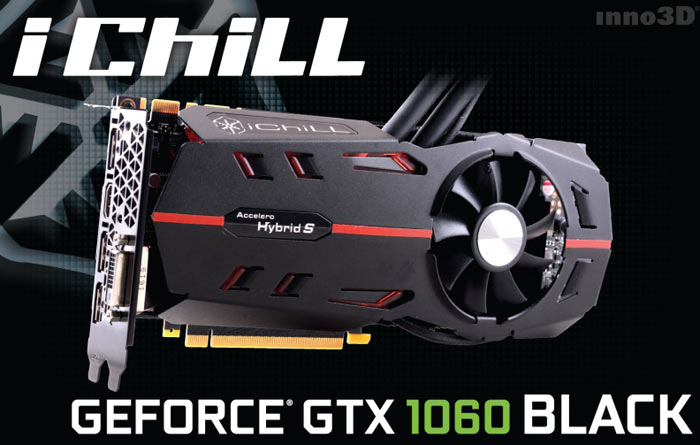 Looking at the tech spec of the Inno3D GeForce GTX 1060 iChill Black, we can see that the hybrid cooler affords out of the box GPU clocks of 1280/1784MHz base/boost. The card's standard memory clock provides 8.2Gbps of bandwidth. Of course this is a 6GB GDDR5 version of the GTX 1060 with a 192-bit memory bus and 1280 CUDA cores enabled.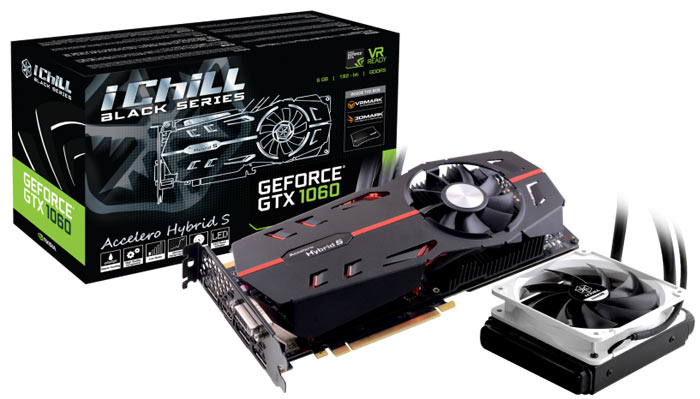 The hybrid cooler on this card adds some bulk. It's a 2.5 slot width graphics card measuring 266mm long and 98mm tall. In use Inno3D says that users will enjoy "the best cooling performance at super low noise levels". It provides a cooling comparison chart (see below) but sadly it compares a GTX 1080 reference card against one fitted with its 'Accelero Hybrid S' AiO cooler. In the GTX 1080 iChill Black comparison the hybrid card maxes out at 60 degrees C when taxed, rather than 85 degrees C for the reference.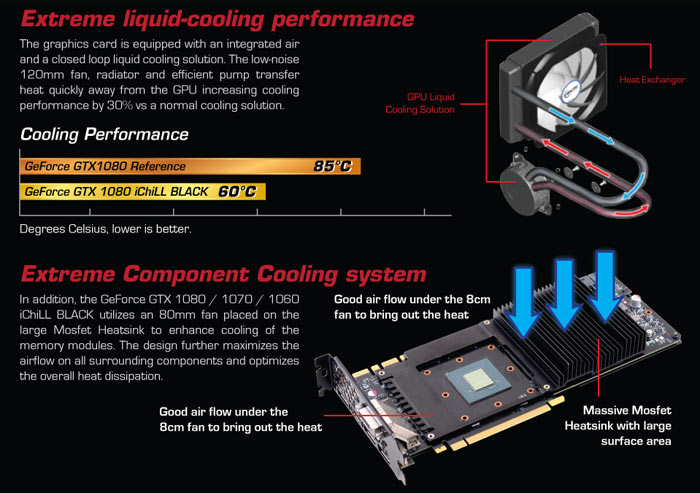 Inno3D's cooler places an 80mm fan on the card over a large Mosfet heatsink. This fan uses the 'intelligent fan-stop technology' and will not spin up in GPU-idle mode. The GPU is cooled by the integrated AiO liquid cooler which is in turn connected to the pump and radiator with low-noise 120mm fan.
LEDs on these iChill Black AiO cards change colour to indicate GPU loading. The built-in LEDs will shift from blue to green to red as GPU load increases.
The Inno3D GeForce GTX 1060 iChill Black is fitted with an 8-pin power connector. You can connect monitors via its Dual Link DVI-D, HDMI 2.0b, and 3x DisplayPort 1.4 ports. We haven't received pricing and availability information from Inno3D as yet.