Nvidia has just announced two new additions to its Pascal GPU-powered GeForce GTX 1000 series of graphics cards. A little earlier than expected, the GeForce GTX 1050 and 1050 Ti have been officially unveiled, and we have already had emails from AIC partners such as EVGA announcing their custom designs. Though announced today, the cards will not become available until 25th October (8th November for the GTX 1050) but we will be allowed to publish HEXUS reviews ahead of that time, so you get the full nitty-gritty about what these new cards can deliver before they hit the store shelves.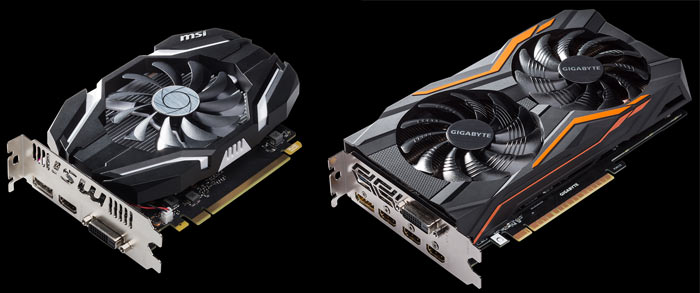 The key proposition for the Nvidia launches the GeForce GTX 1050 and 1050 Ti is that they "will let you play your favourite games at a smooth 60 frames-per-second", says Nvidia. We already saw this illustrated via the previously leaked presentation slide showing off this level of performance in games such as GTA5, Overwatch and GoW4.
Nvidia and its partners will also provide a wide range of cooling options, factory overclocks, and power options with this pair of 2GB and 4GB cards. Despite their entry level status, Nvidia says these GeForce cards will still benefit from 'essential gaming tech' such as Nvidia GameStream, G-Sync, and GeForce Experience.
Official hardware specs are here at last and I've included Nvidia's official comparison table, below, which compares the new cards to a Maxwell-based GeForce GTX 750 Ti.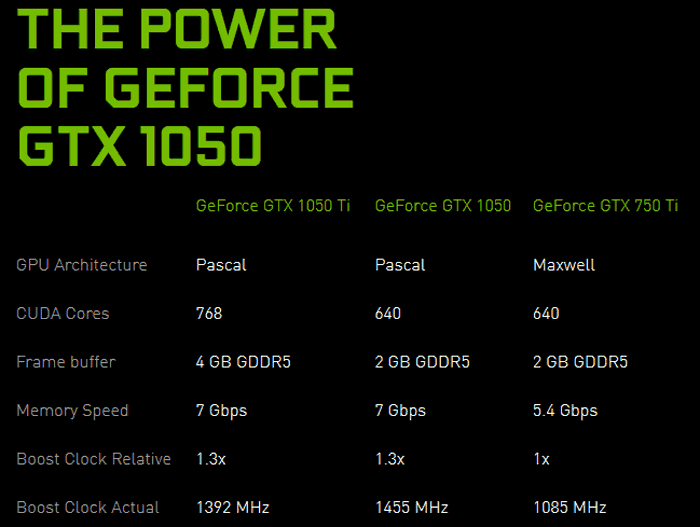 Extra useful info: a standard GTX 1050 Ti runs at 1290MHz, boosting to 1392MHz, a standard GTX 1050 runs at 1354MHz, boosting to 1455MHz. Both utilise a 128-bit memory interface. Neither card is 'VR ready' by Nvidia's own admission. Both cards have a 75W TDP and don't require supplementary power connectors. DirectX 12 API with feature level 12_1 is supported.
Nvidia has lots of partners ready to release their own versions of both the GeForce GTX 1050 and 1050 Ti. From 25th October customers in 238 countries will be able to pick up GTX 1050 Ti cards by the likes of Asus, EVGA, Gainward, Galaxy, Gigabyte, iGame, Innovision 3D, MSI, Palit, PNY and Zotac. GTX 1050 cards will become available on or before 8th November.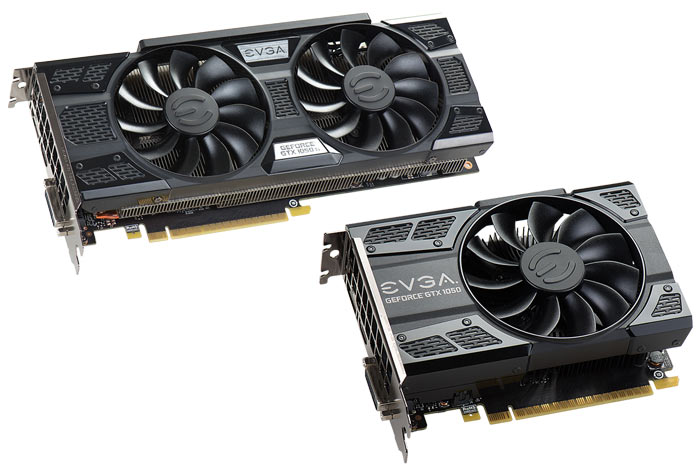 As mentioned in the intro, EVGA has already emailed us to provide further information on its 10x GTX 1050, and GTX 1050Ti variants. You can read more about the dual and single fan regular, SC, SSC, FTW and FTW DT versions on EVGA's product pages.
Just in: details about Inno3D's quartet of new GTX 1050 / Ti cards.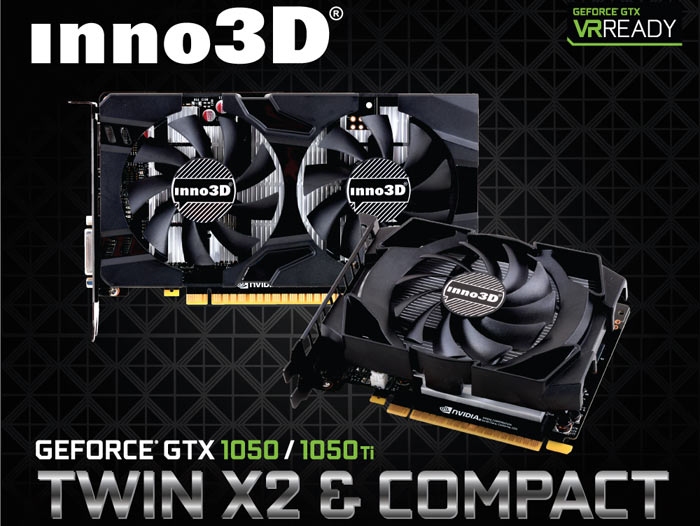 According to an email we just received from Nvidia, 'standard' UK pricing for the GeForce GTX 1050 and 1050Ti models will be £115 and £139 respectively.