Various sources have pointed to a launch of the Nvidia GeForce GTX 1050 and 1050Ti this time next week. Now, helping us get a handle on what Nvidia will be unveiling, leak-centric video card site VideoCardz has published a couple of articles harvested from what appears to be a set of presentation slides that has gone AWOL.
Base specs and pricing
One of the slides that VideoCardz has got a hold of gives a brief rundown of the key specifications of the Nvidia GeForce GTX 1050 and 1050Ti and includes recommended pricing and a launch date. See below.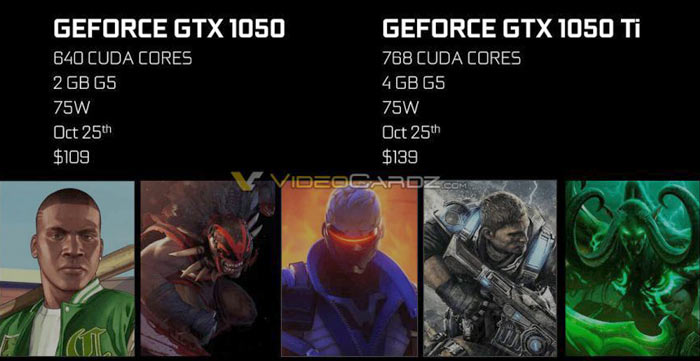 As you can see above, the GTX 1050 has 640 CUDA cores and 2GB of GDDR5 RAM, with a TDP of 75W. It will be priced around $109 at launch. The more powerful 1050Ti has 20 per cent more CUDA cores (768) and comes with 4GB GDDR5 on board, it has the same 75W TDP but the price is increased to around $139. Both cards are said to be launched on 25th October. VideoCardz made a nice comparison table showing exactly where the new cards fit in the GeForce lineup (with GPU and memory speeds derived from previous leaks/rumours). This table is embedded below.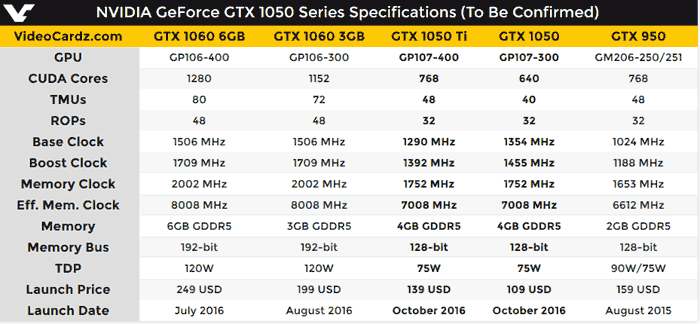 Performance
A couple of other credible looking presentation slides feature in another new VideoCardz story today. One slide confirms that slotting in a new Nvidia GeForce GTX 1050/1050Ti is easy as pie, with no external power connector required, and that your existing PSU should be just fine. After you slot it in just click a button to optimise a game and keep up with the latest drivers (GeForce Experience), then play…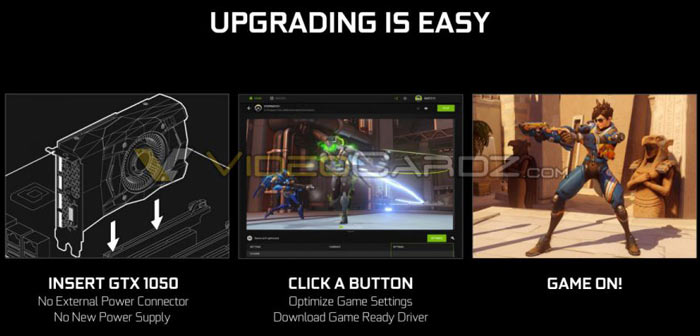 Perhaps the most interesting slide for PC enthusiast is the next one, showing expected performance in popular modern games. In case you can't read the small-print (click to zoom in), it says that the featured games were run at 1080p on an Intel Core i5-4670K based system. GTA5 and GOW4 used medium quality settings, Overwatch was set to high, while DOTA2 and WoW ran at their highest settings.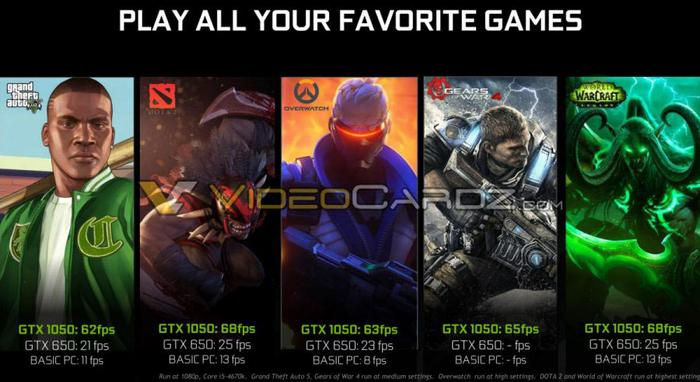 Last but not least, various sites have been showing off various GTX 1050/1050Ti SKUs and packaging including some from the likes of Asus and Zotac. Looking through the images there will be plenty of smaller, single fan cards amongst the releases.