It was only yesterday that we saw the first official news concerning the Nvidia GeForce GTX 1060 graphics card. Nvidia revealed the Founders Edition card ($299) and a good depth of technical details to what it intends to be an AMD Radeon RX 480 stopper. It also said its AIC partners would be producing versions of the card priced from $249 (£229). Already we have started seeing numerous official teases of the upcoming third party designed GTX 1060 cards, as well as a number of leaked photos/details of others. Partner cards can launch alongside the Founder Edition from 19th July onwards.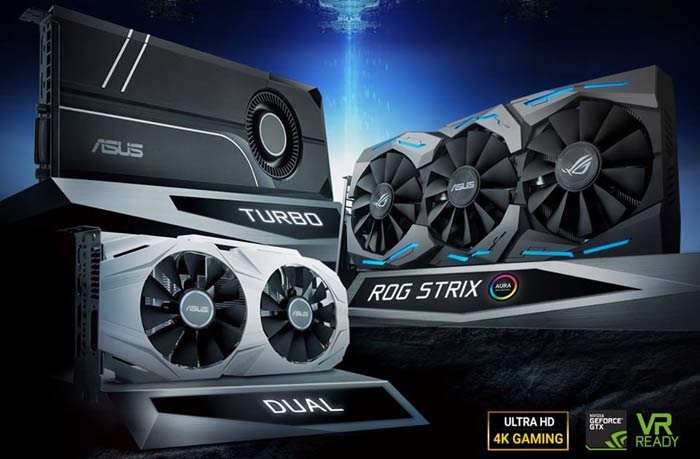 Asus
PCs and components giant Asus has teased a trio of GeForce GTX 1060 custom graphics card designs. In a Facebook post by the ROG team we can clearly see the upcoming designs and their custom coolers. The Turbo, Dual, and ROG Strix AURA GeForce GTX 1060 cards feature a single, dual and triple fan cooling system respectively. Unfortunately the tease ends there, with no proper description or hints at specs.
Gigabyte
Gigabyte has published a press release for its upcoming GeForce GTX 1060 G1 GAMING graphics card. Key features of this card are the "Super Overclocked GPU", the WINDFORCE 2X technology, and RGB Illumination.
The WINDFORCE cooling solution uses dual 90mm fans, 2 composite copper heat pipes with direct touch to the GPU, and semi-passive operation. An LED fan indicator sits atop the card, as pictured.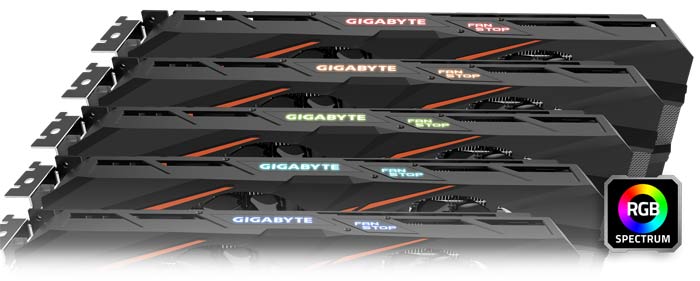 Unfortunately we don't get to learn what 'Super Overclocked' means in numerical spec terms but there are details hinting at fast overclocks being available to end users. Gigabyte boasts of its "GPU Gauntlet Sorting technology, pushing overclocking capability to the limit without compromising the system reliability". Furthermore the G1 GAMING uses a 6+1 phase design, and comes with one-click overclocking via the XTREME Engine.
Inno 3D
Smartly, Inno 3D sent us a press release about its upcoming GeForce GTX 1060 Gaming OC X2, and GeForce GTX 1060 iChiLL X3 graphics cards. You can see the full release published in the HEXUS PR section here, but we were also sent some photos, as embedded below, with many more available (OC X2, iChiLL X3).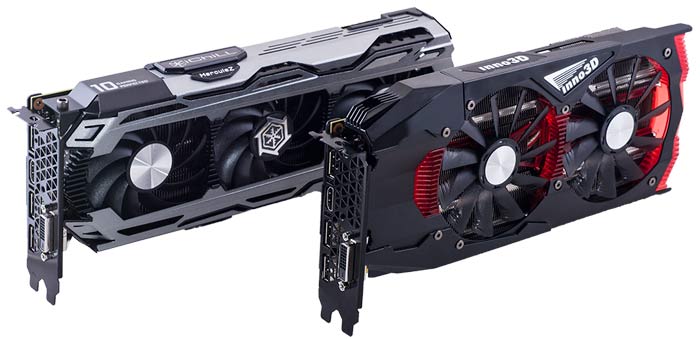 Inno3D hasn't just stopped with a tease, it has provided the most thorough specs so far, of its custom GTX 1060 cards. Interestingly the base specs of both Inno 3D cards are identical but the more powerful cooler on the iChiLL X3 would be expected to appeal to some, for its faster OC potential.
Boost Clock: 1784MHz (Nvidia Founders Edition = 1708MHz)
Memory Clock: 8.2Gbps (Nvidia Founders Edition = 8.0Gbps)
Memory Size: 6GB
Memory Type: GDDR5
Memory Interface: 192-bit
Output: DP x 3 + HDMI + DVI