Purported Nvidia presentation slides have leaked out ahead of the launch of the GeForce GTX 1060. According to the slides, the new GTX 1060 provides "the power of a GTX 980 for every gamer," and provocatively it is said to be "much faster than an RX 480".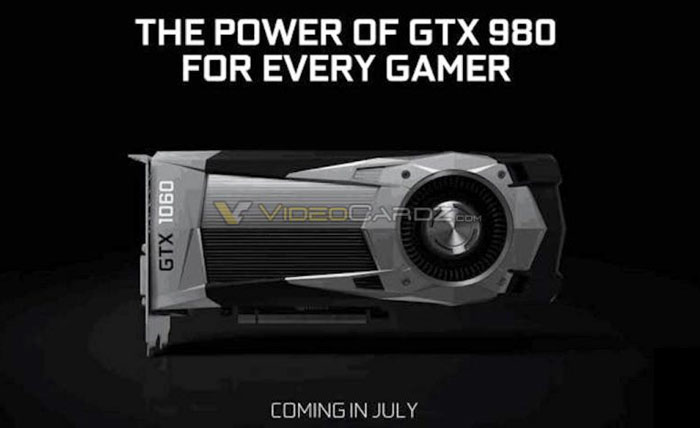 Video card leak specialists VideoCardz published these key presentation slides earlier today and said that the appearance of the slide deck at this time supports earlier rumours of a paper launch of the Nvidia GeForce GTX 1060 on 7th July, followed by retail availability a week later, from 14th July. It is thought that Nvidia has brought the launch of the GTX 1060 forward to confront AMD and its newly available RX 480 graphics cards. The previously published picture of a GTX 1060 in the wild in Hong Kong looks to be genuine if these leaked slides aren't faked.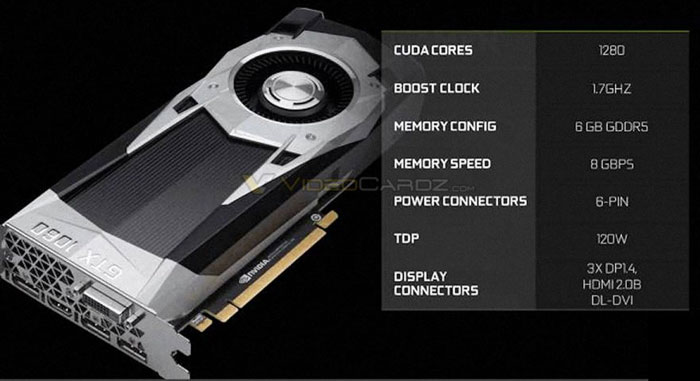 According to the report accompanying these slides, Nvidia is releasing GeForce GTX 1060 graphics cards in both 3GB and 6GB GDDR5 configurations. The card is likely to use a 192-bit memory interface. With its 1280 CUDA cores and 1.7GHz boost clock this graphics card is expected to provide a maximum compute performance of about 4.4TFLOPs. Other specs you can see in the presentation slide include; a memory speed of 8GB/s, a TDP of 120W with a 6-pin power connector, and a standard array of 3x DisplayPort 1.4, 1x HDMI 2.0B, and 1x DL-DVI connectors.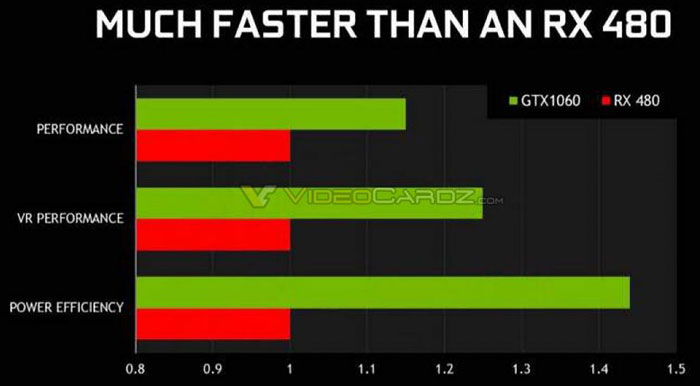 Interestingly the above slide directly compares the Nvidia GeForce GTX 1060 with AMD's new Radeon RX 480 graphics card. Headlined "much faster than an RX 480," this slide seeks to show the GTX 1060 with a commanding lead over the RX 480 in performance, VR performance and power efficiency. Footnotes would be very useful to see the basis of these comparisons. Nvidia's comparison graph with its origin at 0.8 rather than 0 is a classic marketing trick to exaggerate differences.
Pricing will be key and according to OCUK staff "NVIDIA will not undercut AMD and they also will not price it under 970, the 1060 shall go in the gap the 980 once was with similar performance at around 300 quid because that gives NVIDIA a good lineup as 970 and 960 shall remain for a few more months which fill the 220GBP and 150GBP gaps."
So while Nvidia is comparing the GTX 1060 to the AMD RX 480 it will be pricing its new mid-range champ at a considerable premium to its competitor. Will it really try and achieve a 50 per cent higher price for a purported 15 per cent PC gaming performance gain over the opposition?