Now that stock of GeForce GTX 1080 Founders Edition cards has started to trickle into the channel and with custom-cooled cards due to arrive in the next week or so, Nvidia has finally taken the pricing hammer to premium GeForce GTX 900-series cards that no longer make sense at the previous prices.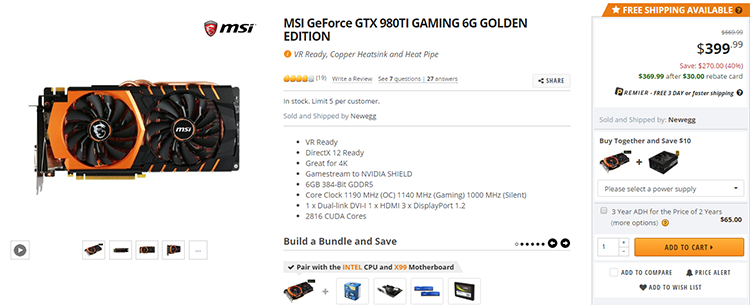 The financial repositioning is an attempt to move as much older stock out of the channel as quickly as possible before Pascal-based cards turn up in real volume. For example, an MSI GeForce GTX 980 Ti Gaming Golden Edition is listed at Newegg for $369.99 after a rebate. In the UK, a well-overclocked EVGA GTX 980 Ti is on offer for £389.99 at Scan. The GTX 980 Ti makes little financial sense, even at the newer, lower pricing given that GTX 1070 now occupies that performance place. Interestingly, the UK retailer no longer lists the GTX 980, presumably because it has got rid of its surplus.
The GeForce GTX 970 appears to have had a slight snip, too, as an aftermarket Zotac is available at Scan for £214, with Overclockers matching that pricing with an MSI model. Are we seeing the decks being cleared for the GTX 1060? It's high time that this popular GPU dropped to below £200; perhaps AMD's upcoming RX 480 can force Nvidia's value hand further.
Would you still consider a 900-series GPU for gaming, or does the new Pascal range, soon to be augmented by that GTX 1060, make far better sense?