With the Nvidia GeForce GTX 1080 Founders Edition becoming available in just over a fortnight its natural to see further hardware details start to leak out, and indeed they have. VideoCardz has scored some nice clear pictures of the Nvidia GeForce GTX 1080 reference PCB. However the leakage doesn't stop there, as the same source has published pictures of the first non-reference GTX 1080 we have seen on the web – the Galax GeForce GTX 1080 and its custom cooler.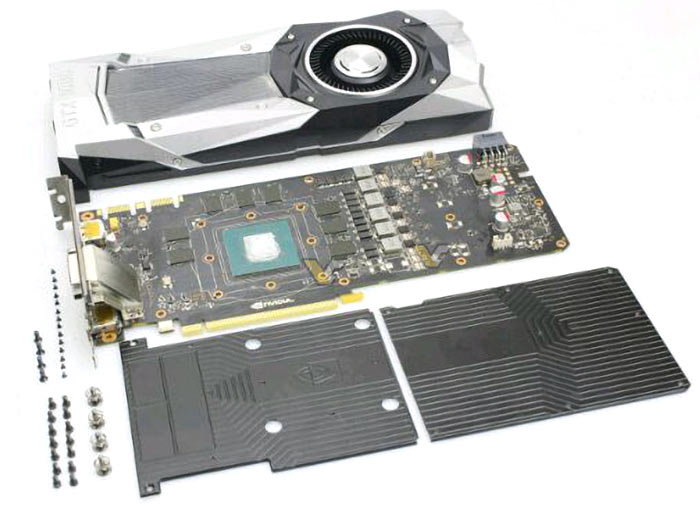 GeForce GTX 1080 reference PCB
The pictures show the GTX 1080 reference PCB (above and below) to have a 6-phase VRM using DrMOS chips, taking power from a single 8-pin PCIe power connector. Cleverly Nvidia's reference design leaves room for AiB partners to add an extra power connector nearby. The card's 16 nm GP104 is flanked by 8 memory modules front and back, says VideoCardz. Both the GPU and memory chips are seen to be smaller than on the earlier generation (28nm GPU, DDR5 based) GTX 980 graphics card.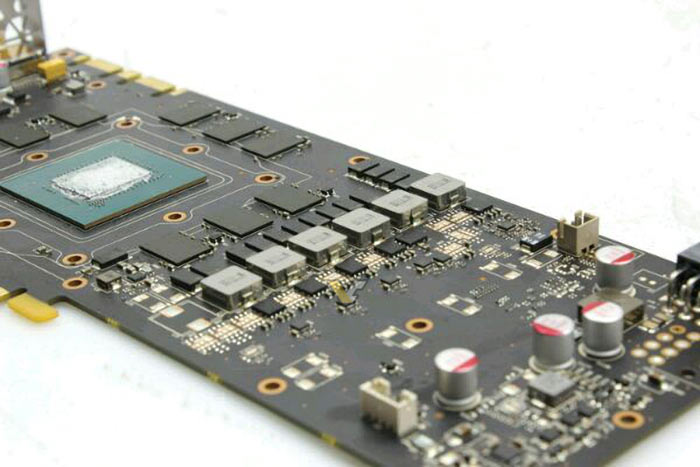 In the embedded pictures above you can see the SLI fingers (for two-way SLI bridges), the two piece backplate and the cooler removed from its PCB.
Galax GeForce GTX 1080 with its custom cooler
Here is an example of a non-reference, non-Founders Edition of the Nvidia GeForce GTX 1080. This example, from Galax, would presumably offer all the performance of a reference design but save you $100 or so. Looking at it that clearly seems to be the aim of this particular Galax branded product – delivering the goods at a lower price. The firm hasn't gone to town with any attempt to finesse the base product, equipping its 'custom design' with a simple dowdy/plain black cooler.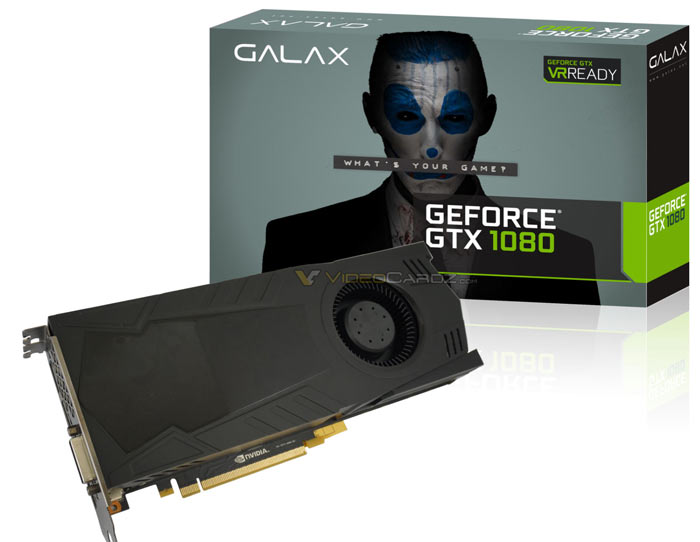 From the VideoCardz pictures it looks like Galax has eschewed a backplate with its custom design, and the box art is another story of tragedy. The only other non-reference GTX 1080 we have had a whiff of, the Gigabyte GeForce GTX 1080 Xtreme Gaming graphics card, looks more like we would expect from AiBs trying to add value/appeal compared to the Founders offerings.