Following the big reveal on Friday, Nvidia has published a video showing the first public demonstration of DOOM running on its GeForce GTX 1080 graphics card. That's not all though, the GTX 1080 was flexing its muscles in DOOM using the Vulkan API.
Above you can see a sizeable segment of gameplay from DOOM's 'relentless' single player campaign running at 1080p at Ultra Settings on the projector system at the event. The demo started with the frame rate locked to a 'solid' 60fps, then half way through the video the id Software developers opened the settings options and uncapped the framerate. In the fast paced and explosive action that followed it looked like the fps counter never dropped below 100.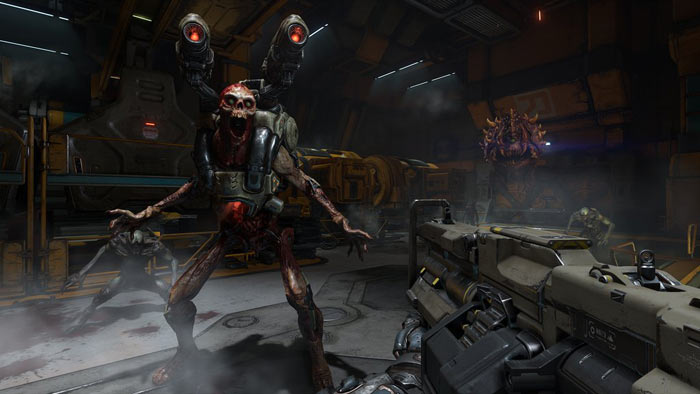 The id Software developers say that they want DOOM to be "the first AAA game that openly embraces Vulkan and show off its capabilities". On Pascal those capabilities are "stunning," surmised the voiceover.
It is good that Nvidia published its own official DOOM gameplay video yesterday, as a number of sites have uploaded coverage of this video recorded on smartphones and so on. Of course it's still not the best quality, being shot from a projector screen at the event.
If you are interested in further coverage of the '10' event Nvidia has been filling up its YouTube channel over the weekend and there are now videos dedicated to features such as Ansel, VRWorks Audio and VR Funhouse, Simultaneous Multi-Projection (SMP) technology, the GTX 1070 and more.