At the end of March we got what could be our first glimpse of the Nvidia GeForce GTX 1000 Series graphics card designs. Back then we saw two metal hewn cooler shrouds featuring the GTX 1080 and GTX 1070 designations – providing an indication of not just the upcoming design but also that Nvidia would follow the natural numerical progression from its GTX 900 Series for its first consumer Pascal graphics cards.

Today a masked Baidu user has published a new photo of what looks like the same cooling shroud but in a much more fished state; painted in silver and black, equipped with a fan, and sporting a plastic cover for the heatsink. VideoCardz reckons that this definitely isn't a mod for an existing Maxwell card as the screws don't align with the previous NVTTM cooler, so it is designed for a completely new board layout.
Current tech press best guesses as to the spec of this Nvidia GeForce GTX 1080 is as follows:
Uses a Pascal GP104-200 GPU manufactured on 16nm TSMC process
Equipped with 8GB of either GDDR5X or GDDR5 RAM on a 256-bit bus providing approx 12Gbps memory speed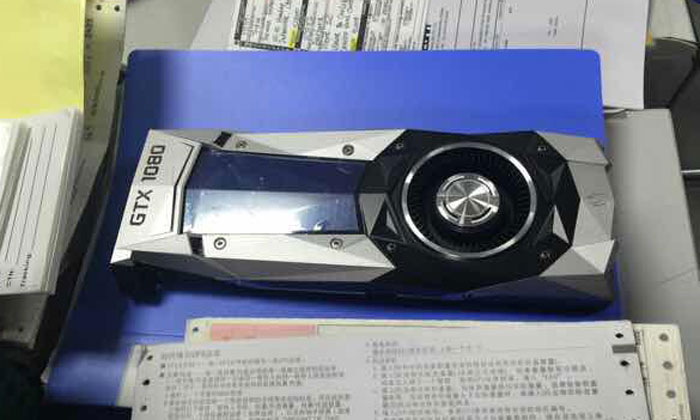 Unfortunately the new picture doesn't reveal the PCB, power connectors, or rear bracket so doesn't provide any further clues to the Nvidia GeForce GTX 1080 specs. If the blue folder the GTX1080 cooler is resting on is a standard 34cm long, made to contain A4 sheets, the whole graphics card would be about 30cm long.
Last week we heard that gaming and enthusiast level Pascal GeForce GTX 1000 series graphics cards, including this GTX 1080, would be launched at Computex in June and ship in volume in July.