Pictures, that are said to be of the cooling shrouds that will be fitted to Nvidia's first Pascal GPU based graphics cards, have been published here and there around the web and Twitterverse. At the time of writing Nvidia hasn't officially teased us with such shroud designs, nor has it given any indication of the model naming to be expected, so we have to look at these pictures with a cynical eye.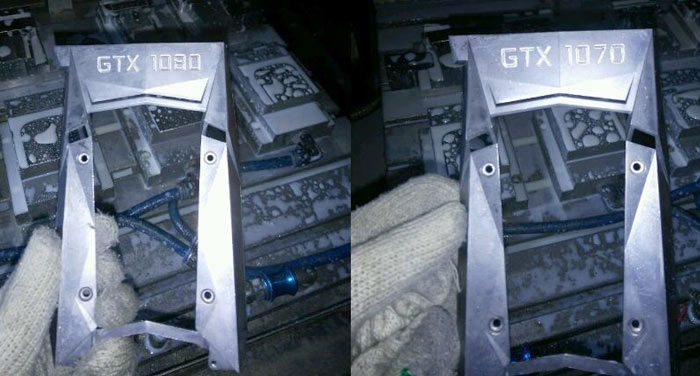 A pair of pictures are presented to our eager peepers, above, showing an angular, polygonal design for the cooler shrouds. The metallic shrouds, held in a production worker's well worn glove, are pictured above CNC machinery dappled with milky cutting fluid. VideoCardz has done a particularly thorough analysis of the photo sources, checking for obvious copy/paste and edit signs but hasn't found anything fishy. So the Nvidia GeForce GTX 1080 and GTX 1070 do appear to be actual objects on a production line somewhere and small details, such as the font match, are perfect.
The model numbers are a natural logical progression from the GeForce GTX 900 series but the GTX 1080 and 1070 don't seem to work for me. Perhaps Nvidia should have refreshed its naming/numbering scheme at this time as '1080 gaming' is the entry level on PCs nowadays, and 1070 sounds like it has come up 10 pixels short of 1080 requirements... The problem is that 1080 is a number that already has strong connotations in the graphics industry and at this time of 4K+ UHD and VR, it's not an impressive number to be associated with.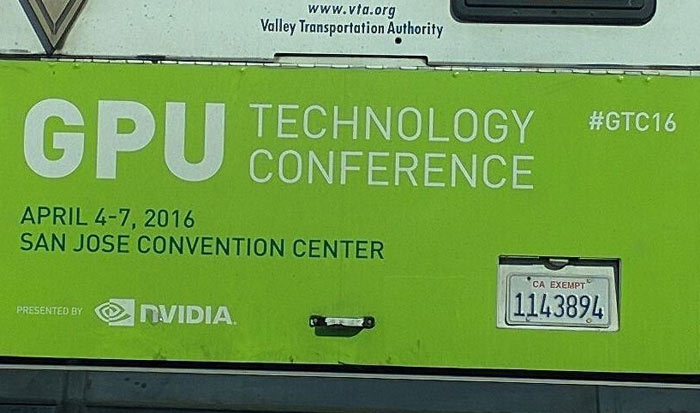 Nvidia is expected to fully introduce its Pascal architecture at the GTC 2016 next week (4th to 7th April in San Jose, Ca.) So it's not a long time off until we will see if these shrouds, and Nvidia's premiere Pascal graphics cards naming choice, is real or some fakery from persons unknown with too much time on their hands. Hopefully there will be a lot more official Pascal hardware tech specs to get our teeth into as well.