Nvidia has released a new WHQL driver for GeForce graphics card users. The new GeForce Game Ready Driver v361.75 WHQL has been readied to provide an "optimal experience" for Rise of the Tomb Raider (released for PCs today) and Tom Clancy's The Division (Beta - released on Friday for PC gamers).
Of course the updated driver doesn't stop at a few tweaks and optimisations for the aforementioned pair of hot-off-the-presses games. There are also a number of important, updates, fixes and optimisations for other aspects of Nvidia's driver.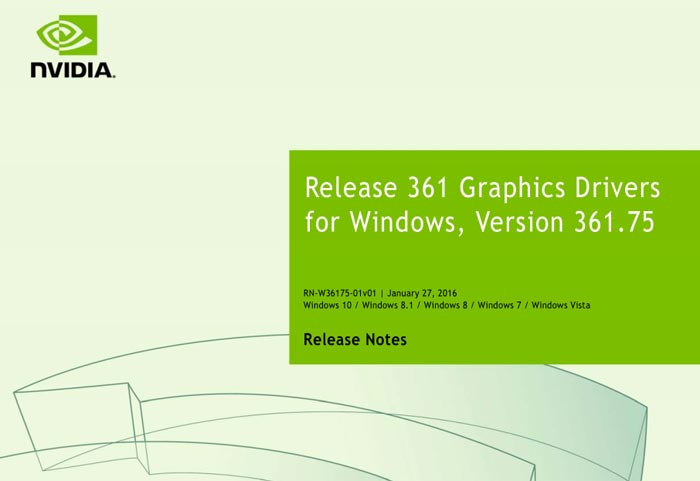 One of the most interesting new additions to v361.75 WHQL is the Beta support on for external graphics over Thunderbolt 3. GPUs supporting this feature include all GTX 900 series, Titan X, and the GeForce GTX 750 and 750Ti.
As usual Nvidia has implemented new and updates SLI profiles. The headlining games of Rise of the Tomb Raider and Tom Clancy's The Division (Beta) have had an SLI profile added to the driver. Furthermore Nvidia updated SLI profiles for Metal Gear Solid V: The Phantom Pain (multiplayer exe), Sebastien Loeb Rally Evo, and Tom Clancy's Rainbow Six: Siege. Several key software models including NView, PhysX, CUDA, HD Audio and the GeForce Experience have been updated.
Adobe creative software users on Windows 10 systems will welcome the latest driver as it is said to fix some crashes experienced using Photoshop CC and Illustrator CC. Users of earlier versions of Windows also get bug fixes; that the new driver fixes issues in Call of Duty: Black Ops III and Just Cause 2 (on GM204 GPUs) caught my eye. Go to page 11 of the release note to browse the changes and issues fixed in this most recent driver release. Needless to say there are some known issues remaining which are detailed on page 12 onwards.
Full release notes for Nvidia's GeForce Game Ready Driver v361.75 WHQL can be found here (PDF). Download the new driver here.