Nvidia has launched the GeForce GT 710 graphics card. This modest card, costing just £29.99 (RRP), still represents a big step up in capabilities compared to most integrated graphics solutions - up to 10x faster, for example, according to Nvidia. It also represents a hefty step up in capabilities compared to the previous generation card, with a 70 per cent performance increase and offering multi monitor support for up to three HD displays.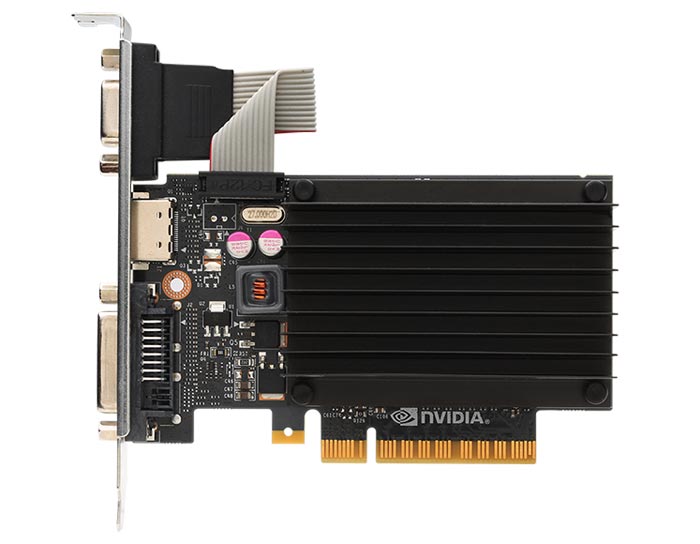 As you would expect from the model number, the Nvidia GeForce GT 710 uses the firm's older Kepler architecture. It features 192 CUDA cores, with a GPU base clock of 954MHz. That compares very favourably against the previous gen GT 610's 48 CUDA cores in a GPU running at a base clock of 810MHz. A standard configuration GT 710 comes equipped with 2GB of DDR3 memory on board (1GB option) with a 64-bit memory interface, offering memory bandwidth of 14.4GB/s.
Nvidia's budget GT 710 offers more than just better speed compared to most integrated solutions, several key Nvidia technologies are supported such as PureVideo, PhysX, FXAA, and others. Of those probably only the PureVideo technology will be useful on such a low end card, its used to handle GPU powered video decoding, leaving your CPU for other tasks.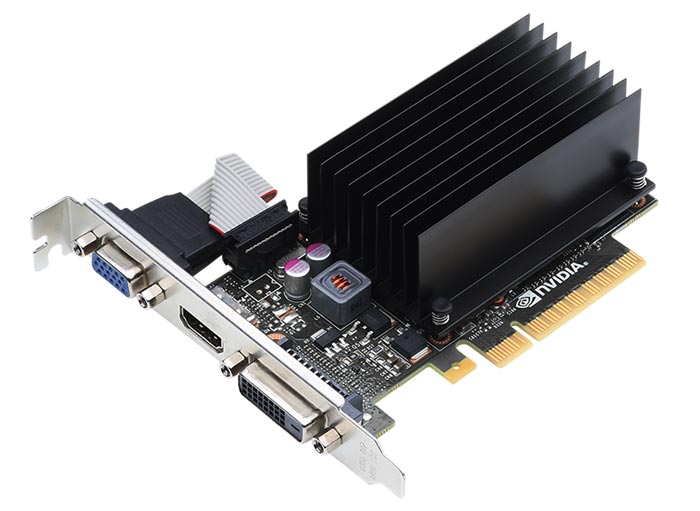 Other benefits with the GeForce GT 710 graphics card include; DirectX 12 support (feature level 11), support for resolutions up to 2560 x 1600 pixels (or as high as 3840x2160 at 30Hz, or 4096x2160 at 24Hz), DVI-D, HDMI and VGA connectors, and support for up to three simultaneous displays.
The reference design GT 710 is a dual-width card thanks to its lumpen passive cooler, and is just under 6 inches long and 2.7 inches high. Power consumption is a modest 19W.

EVGA quick off the mark
As the subheadline says, EVGA was quick off the mark to launch its GT 710 lineup. (Actually we heard about this new graphics card from EVGA before Nvidia.) The well regarded Nvidia AiB partner has launched six variants of the GT710 offering various permutations of 1GB and 2GB of memory, single and dual slot, passive and active cooling and low profile options.
EVGA GeForce GT 710 lineup
2GB Memory:
02G-P3-2717-KR = EVGA GeForce GT 710 2GB (Single Slot, Dual DVI)
02G-P3-2713-KR = EVGA GeForce GT 710 2GB (Single Slot, Low Profile)
02G-P3-2712-KR = EVGA GeForce GT 710 2GB (Dual Slot, Low Profile, Passive)
1GB Memory:
01G-P3-2716-KR = EVGA GeForce GT 710 1GB (Single Slot, Dual DVI)
01G-P3-2711-KR = EVGA GeForce GT 710 1GB (Single Slot, Low Profile)
01G-P3-2710-KR = EVGA GeForce GT 710 1GB (Dual Slot, Low Profile, Passive)