We've already seen a clear example of VR minimum spec hikes, via the Elite: Dangerous minimum recommended VR specs published last month. Now it looks like that developer's increased minimum spec recommendation might have been rather modest. Nvidia's general manager of Shield, gaming, and VR business, Jason Paul, recently talked to VentureBeat and stressed that the PC specs required to dish out immersive VR experiences are 7X more demanding than those required for 1080p gaming at 30fps.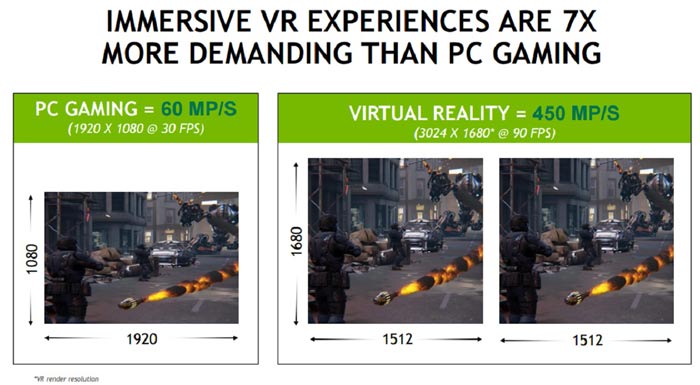 Nvidia currently estimates that only 13 million PCs worldwide have the muscle to power the Oculus Rift and HTC Vive at optimal performance levels: providing a smooth, comfortable experience to wearers of such HMDs. In a bit of self promotion it adds that the number of PCs able to offer similarly acceptable VR performance could be boosted to 25 million if developers make use of Nvidia GameWorks VR software for games, and DesignWorks VR on the professional side.
Jason Paul told VentureBeat "We see the potential of VR as very large, but we also see a big challenge as far as the computing power that's required." Paul qualified that statement, "If you look at your typical PC gaming experience, 90 per cent of the gamers out there play at 1080p. For a smooth experience you don't want to go below 30fps. Compare that to VR where the displays are about 2K, but you have to render closer to 3K, and you don't want to go below 90fps. It's about a sevenfold increase in raw performance to render for VR versus traditional PC gaming. You have to do that in less than 20 milliseconds from head rotation to what shows up on your display."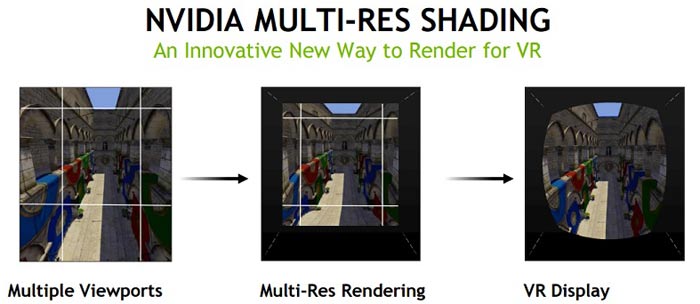 Nvidia claims its GameWorks VR can provide an approximate 50 per cent speed-up, with the modern Nvidia graphics hardware you already own, thanks to technologies such as Multi-Res Shading that we have covered in HEXUS news previously. Despite Nvidia's Paul claiming to have 85 to 90 per cent market share "in this space", VentureBeat observes that the 13 million PCs that are VR capable (or even 25 million, if boosted GameWorks VR), is fewer than the PS4 headset target market of 30 million or more gamers. Paul explains that the PC has higher quality and resolution minimum bars to surpass.
VR is expected to be one of the big themes at CES this week, alongside automobiles, smarthome tech and wearables (again).