MSI has launched a new limited edition graphics card based around Nvidia's GeForce GTX 980 Ti. The MSI GTX 980Ti GAMING 6G Golden Edition is a factory overclocked card with an all copper heatsink, fins and heatpipe design twinned with Twin Frozr V thermal technology to provide gaming enthusiasts, fans and collectors, with "supreme, yet silent graphics performance". To provide an all around premium package MSI has fitted a black all-metal backplate with a golden MSI GAMING dragon motif.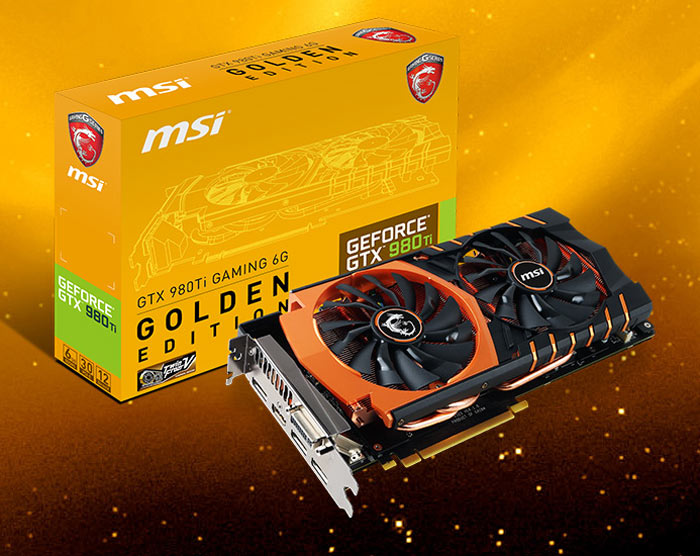 The key performance specs of this GeForce GTX 980 Ti are as follows:
Boost Clock / Base Clock / Memory frequency

1291 MHz / 1190 MHz / 7096 MHz (OC Mode)

1228 MHz / 1140 MHz / 7010 MHz (Gaming Mode)

1076 MHz / 1000 MHz / 7010 MHz (Silent Mode)

6144 MB GDDR5 / 7010 MHz Memory

For comparison the 'standard' MSI GTX 980 Ti GAMING card is clocked at 1178 / 1279 / 7010 MHz.

MSI has 'enhanced' its Twin Frozr V thermal design in the Golden Edition with an all-copper heatsink, cooling fins and heatpipes with an anti-oxidation treatment. As well as the supposed cooling benefits, in combination with the backplate this adds quite a bit of heft to the card, which is 1338g, compared to the 1068g of a standard MSI GeForce GTX 980 Ti.


The above clock frequency variant modes are selectable via the MSI GAMING app. The app also provides monitor colour profile switching pre-set for various tasks such as gaming, watching movies. Low blue light settings are selectable for reduction of eye strain during late night gaming sessions, for example. To help show off your special edition GAMING card the app lets users control the card LEDs and choose between five lighting modes. Buyers will also get the MSI Afetrburner overclocking software, Predator screen and video capture tool and XSpilt Gamecaster v2.

MSI promises buyers that "a small surprise is included in the accessories box" and the card will be on display at the Madrid Games Week event in Spain which runs until Sunday.