Last week we were pleased to see the pin-sharp photographic teasers of the EVGA Nvidia GTX 980 Ti K|NGP|N edition graphics card. The man himself published lots of great looking photos of the upcoming graphics card on his web site forums. However few details were revealed about the hardware and also nothing about the release date and pricing – brass tacks info we all like to know. Today EVGA has officially launched its Nvidia GTX 980 Ti K|NGP|N edition, provided us all the relevant information – and introduced a new pre-binned pricing strategy.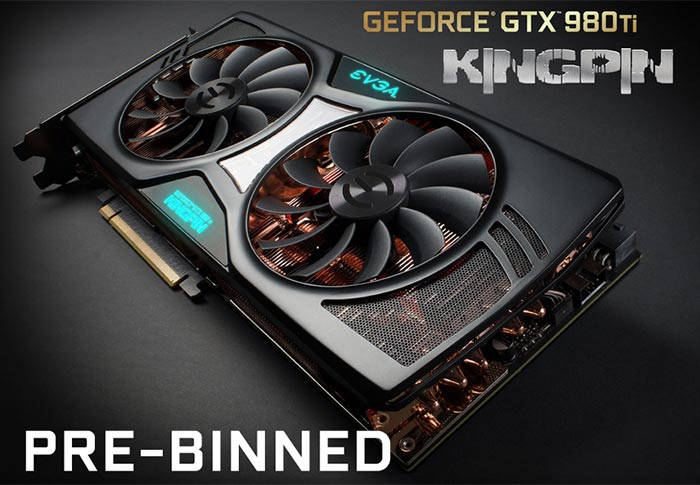 Introducing the new product EVGA says that it is "designed for overclocking perfection". Its 14+3 power phase design and digitally controlled VRM can deliver up to 600A of current via the three power inputs (2 x 8-pin, 1x 6-pin) this card is equipped with. Central to its appeal to a range of enthusiast customers is the pre-binned GPU, ACX 2.0+ cooling and the single slot bracket fitting option. Using one of these specialist EVGA graphics cards K|NGP|N was able to push the GeForce GTX 980 Ti GPU to new heights, with a 2100MHz GPU clock using Liquid Nitrogen Cooling.
GPU ASIC quality pricing strategy
An interesting aspect of this product is how EVGA is pricing it. In the press release EVGA explains its pricing strategy:
For the first time ever, EVGA is introducing a way to select your approximate GPU ASIC (approximate OC performance) Quality before purchasing. Every single piece of silicon, whether it be a CPU or GPU, varies when it comes to maximum overclocking. On GPUs, ASIC quality is one way to determine potential overclock performance. Please note this ASIC Quality DOES NOT guarantee any specific overclock performance, it is merely a guide. The higher the ASIC Quality, the higher the potential overclock performance and the rarer the GPU. Of course, this can and will vary.
ASIC is short for 'application-specific integrated circuit'. A GPU ASIC level can be read by an app like GPU-Z.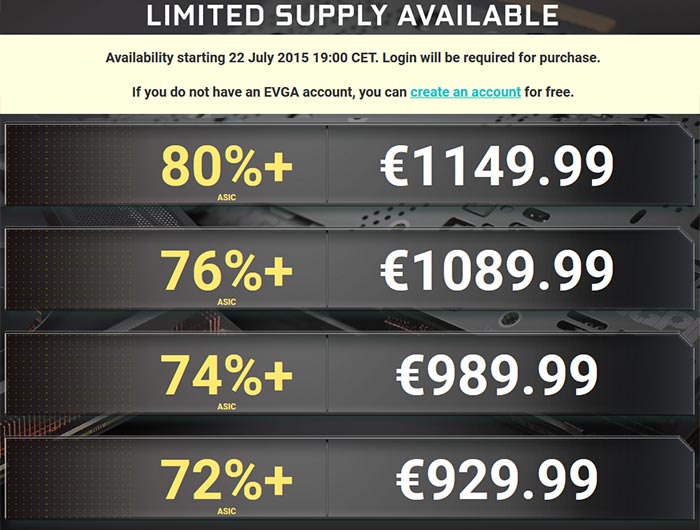 US pricing is as follows: 72%+ $849, 74%+ $899, 76%+ $999, 80%+ $1049
The key specifications of the EVGA Nvidia GTX 980 Ti K|NGP|N edition straight out of the box are as follows:
GPU: Base Clock: 1203 MHz, Boost Clock: 1304 MHz
Memory: 6144 MB GDDR5 (Samsung), Clocked at 7010MHz (7096MHz OC Mode)
EVGA and K|NGP|N have designed many other features into this special edition graphics cards to make it great for overclocking:
Custom LED Control – Change the colour of your card through software with EVGA PrecisionX.
12 Layer PCB – Robust PCB layout with extra copper for smooth power delivery.
14+3 Phase Fully Digital VRM – Improved efficiency, power capacity, and an average of 28C cooler operating temperature.
ACX 2.0+ Cooling + Metal Shroud – Improved cooling with lower fan power consumption and 4X longer fan lifespan. All surrounded in a premium metal shroud.
dB Inverter – EVGA's ACX 2.0+ fan turns off below 60C generating 0dB of noise.
EVBot Connector Onboard – Allows robust tuning and control over all aspects of the graphics card.
Included K|NGP|N Backplate – Built on backplate provides rigidity, plus backlight feature enables full control over brightness and colour.
MMCP – Memory/MOSFET Cooling Plate+ provides direct contact with memory and MOSFETs reducing temperature.
OTS – Onboard thermal sensors allow for automatic real-time extreme overclock tuning to achieve the highest OC possible.
Probe-It Connector – Easily monitor your voltages in real-time with a Voltmeter.
Quick Switch Triple BIOS – Easily switch between three BIOSes with the flick of a switch.
SHP – Straight Heat Pipes offer 6% better heat dissipation than bent heat pipes with reduced thermal resistance.
Single Slot Ready – Included single slot bracket allows you to convert to a true single slot card with waterblock.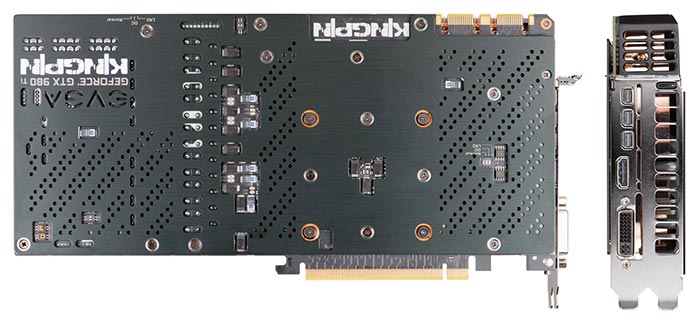 Availability of the EVGA GeForce GTX 980 Ti K|NGP|N starts from tomorrow, 22 July 2015 (10am PT). You should create/login to an EVGA account if you want to buy one of the limited number initially available.