Hot on the heels of the announcement of the GeForce GTX 980 Ti hardware, Nvidia has released information about how it will help deliver great VR experiences with the help of new software. A new software development kit, GameWorks VR, has been produced to help developers produce compelling, fluid, next-generation gaming experiences on Nvidia Maxwell hardware.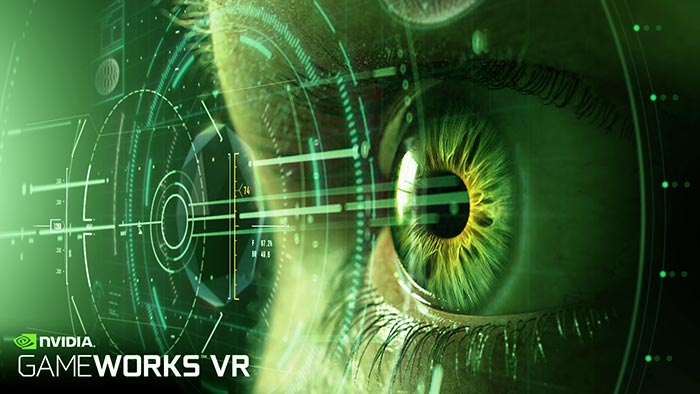 Rendering images for a VR headset requires stereo images to be output to a high-resolution 2160×1200 display at 90Hz. As the Nvidia Blog says, there is little tolerance for latency or stutter in a VR setup – these issues can cause the user to feel distinctly unpleasant, often nauseous. There's a lot of pixels to render at a fast rate so, yes a powerful graphics card is very important, but what if Nvidia could use software to reduce the load on the graphics card?
Thanks mainly to a technology called multi-resolution shading (MRS) Nvidia can reduce the load on the user graphics card(s) resulting in "substantial performance improvements for VR games". A PC World report says that the MRS tech can reduce the amount of pixel work, compared to traditionally rendered VR scenes, by between 50 and 100 per cent.

MRS takes advantage of the way that VR headset images are distorted. In the corners of the intentionally warped images, produced for our viewing though the headset lenses, there is lots of throwaway imagery. So these distorted zones don't need to be rendered with as high a resolution as the central image. Tom Peterson, an Nvidia engineer explained to PC World "GPUs render straight, not distorted. So what we actually have to do is take the original image, then warp it, to account for the fact that it's going to be re-distorted by those lenses, so that by the end of the day—when you see it—the image is straight again."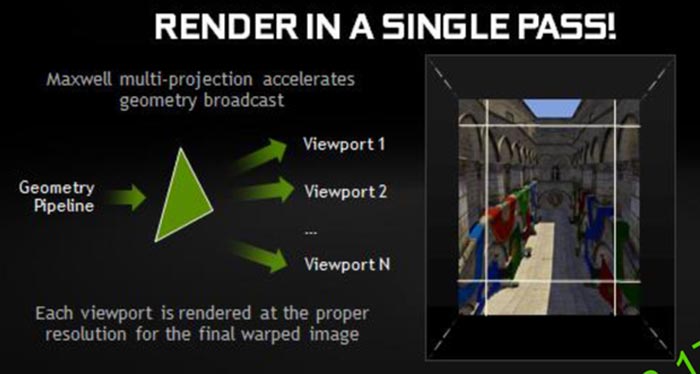 The PC World writer tried a demo of the MRS technology in action and said that at 30 per cent reduction in pixel work there was "no visible difference with MRS enabled or disabled". It had to get to 50 per cent reduction before MRS could be seen to be turned on – and that was when he was trying to detect any quality reduction in the rendering at the scene edges.
Nvidia GameWorks VR also employs:
VR SLI, so GPUs can be assigned to a specific eye
Context Priority, supporting VR features such as asynchronous time warp
Direct Mode, which offer plug-and-play compatibility with VR headsets
Front Buffer Rendering, to cut latency
GameWorks VR technologies such as MRS work on Maxwell GPU graphics cards using Maxwell multi-projection. Early versions of the GameWorks VR SDK are being used by the likes of CCP Games, Epic Games, HTC, Oculus, and Valve.