Speculation about Nvidia's upcoming GeForce GTX 980 Ti graphics card from earlier this year suggested we could see the GM200-based card released in September, or a couple of months after the anticipated release of AMD's next generation Radeon graphics cards. The latest informed speculation coming out of Germany suggests Nvidia will be targeting the release of the GTX 980 Ti as soon as the Computex trade show, which is just a fortnight away.
The reason for Nvidia's turnaround in the matter is that the company doesn't want to lose any ground to AMD when it releases its new HBM-enabled Radeon R9 390X flagship, also expected around the Computex timeframe. Even more interesting is the fact Nvidia will reportedly make the GTX 980 Ti retail-available as soon as the official announcement is made.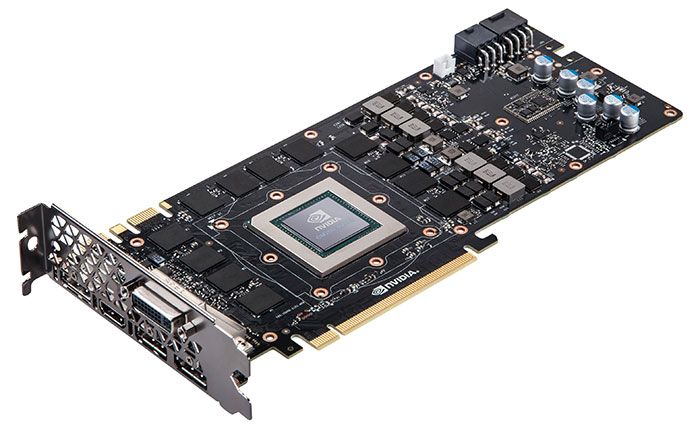 Expected specifications of the GTX 980 Ti haven't changed a lot since the first wave of speculation that happened back in March and April. The GeForce GTX 980 Ti is expected to be built from the full-fat GM200 GPU, meaning up to 3,072 CUDA cores, and could be very similar to the current flagship GTX GeForce Titan X, except with half the amount of VRAM - 6GB versus 12GB - and lower clock speeds. Alternative theories suggest we might see a slightly cut-down version of the GM200 GPU, with 2,816 CUDA cores for example, and with faster clock speeds to compensate for the core-count reduction.
In either case Nvidia will allow its AIB partners more freedom with the GTX 980 Ti to design their own custom PCBs, cooling solutions and aggressive overclocks, something AIBs are not permitted to do with the GTX Titan X. In terms of pricing the GTX 980 Ti will sit somewhere in between the $550 of the GTX 980 and the $1,000 of the GTX Titan X, obviously, with our best guess of $650.