There has been plenty of forum chat about an Nvidia GeForce GTX 980 Ti being released in the wake of the Titan X. Releasing a Titan card followed by a Ti suffixed series flagship range-topper seems to be Nvidia's modus-operandi. Now SweClockers has been tipped by a source that the Nvidia 900 series will be crowned by the GeForce GTX 980 Ti "after the summer".
The second GeForce graphics card based on Nvidia's 28nm GM200 GPU will be very similar to the GeForce Titan X we have had in the HEXUS labs, (and since tested in SLI) according to the report. So called "preliminary data" indicates that the GeForce GTX 980 Ti will sport all the same specs as the Titan X except for the amount of memory on board. So this will be a 3072 CUDA core graphics card with a 384-bit memory bus, but with 'just' 6GB of GDDR5 RAM on board.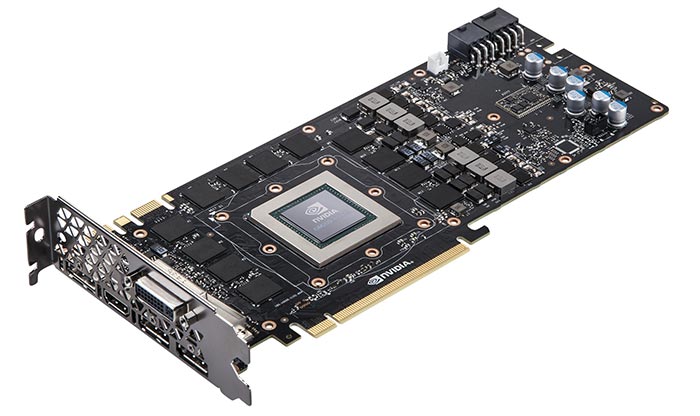 There may be other differences in the various AiB SKU clock speeds says SweClockers. For instance if Nvidia allows time for partners to whip up custom cooler designed cards for launch-time we may see standard core base/boost clocks about 10 per cent higher than on the Titan X. Despite the increased clocks and user overclocking possibilities the best of the AiB coolers should be able to prevent the GPU throttling at 84°C.
As mentioned in the intro, the GeForce GTX 980 Ti is expected to arrive late summer – the timing could be right for the 2015 GAME24 event. Or perhaps it is Nvidia's plan to just unleash its Ti flagship as a spoiler, in the wake of AMD's launch of its top of the range Radeon R9 300 graphics cards.