Nvidia's GPU technology conference (GTC) starts tomorrow in San Jose, Ca. The GTC runs from 17th to 20th March. We already know we can expect more details, and perhaps the official launch of the Titan X, which we caught a glimpse of at GDC and subsequently have seen a few more details about including more detailed pictures and purported benchmarks. But what about any professional grade graphics cards based upon the GM200 'big' Maxwell GPU?
Just before the weekend Canadian dance music producer Deadmau5 published a picture showing off not one but two NVIDIA Quadro M6000 graphics cards in a PC system he presumably owns. It seems like Deadmau5 was provided with these new pro graphics cards to run his tour visuals without any NDA agreements or restrictions. This is an eyebrow curling source for a graphics card leak but you have to take what you can get…
Like the Nvidia Titan X the Quadro M6000 is expected to offer 3072 CUDA cores and 12GB of GDDR5 memory. In January VideoCardz published what it claimed to be the full specs of the Nvidia Quadro M6000 from the GPU-Z database and that included further information such as; GPU clock of 988MHz, Memory clock of 1653MHz and bandwidth of 317GB/s. You can see an associated screen grab below.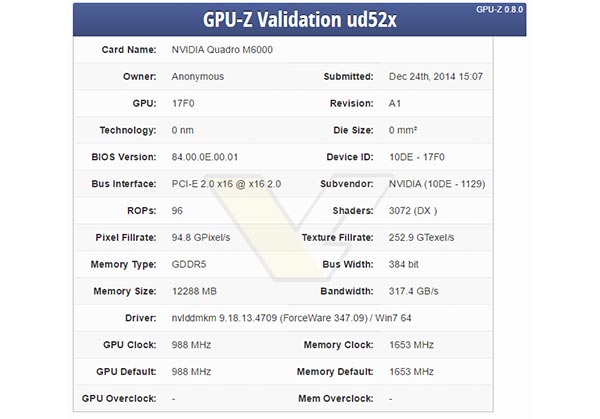 It's interesting to see the picture and details as above but we probably don't have much time to wait for full official specifications, technical documentation, technology demonstrations and independent third party reviews and testing of any cards launched at the GTC.