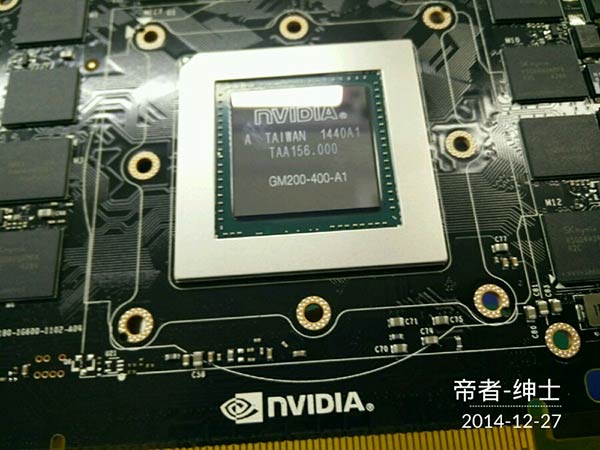 The first pictures of an ultra-high-end Maxwell GM200-based graphics card, shown above, emerged just a couple of days ago courtesy of a leak in China. GM200 is expected to be the successor to the Kepler GK110 GPU that formed previous-generation GTX Titan and GTX 780 (Ti) cards.
The new GM200 chip, based on Nvidia's latest Maxwell graphics microarchitecture, is estimated to provide up to 3,072 CUDA cores (24 SMs) paired with 12GB of GDDR5 memory across a 384-bit interface. Said chip could form the basis of the much-discussed GTX Titan X graphics card, as well as the enterprise-grade Quadro M6000.
A noteworthy point of caution is that the aforementioned specifications are the maximum capabilities of the GM200 chip. Given the prosumer-orientation of the GTX Titan series the GTX Titan X may come with a reduced quantity of VRAM and CUDA cores compared to the full-fat Quadro counterparts. Such a move would also give Nvidia potential to release a faster GTX Titan revision in the future based on the same GM200 GPU.
A new source in China suggests pricing of the GTX Titan X will be an eye-watering $1,349, given Nvidia's recent pricing strategy this number doesn't seem unfeasible. For those who can recall Nvidia's GTX Titan and GTX Titan Black both hit the market with MSRPs of $999 while the dual-GPU GTX Titan Z commanded a $3,000 price tag.
The exact release date is not yet known but previous reports suggest we should see a new GTX Titan product in February given Nvidia's past trend for releasing single-GPU GTX Titan SKUs in that month. The first GTX Titan was released in February 2013 followed by the GTX Titan Black in February 2014.