Samsung has nearly finalised its first in-house GPU design according to a report published by ZDNet Korea. It is thought that a new SoC, incorporating its own designed GPU, could be unveiled at the International Solid Circuits Society Conference (ISSCC) held in San Francisco in February 2015. The GPU may even be employed in one of Samsung's flagship devices next year.
Samsung has been beavering away on its own GPU designs to break away from its dependence upon purchasing IP licences for its processors and even buying-in processors from the likes of Qualcomm for some of its devices. Currently Samsung's Exynos range uses a Mali GPU design licensed from ARM to accompany the ARM Cortex core. However the popular Qualcomm Snapdragon uses the Adreno GPU IP bought from AMD a few years back.
Late last year there were discussions in an investor conference call about Samsung designing its own CPU core. That paired with its own GPU design and LTE modem could result in an all-Samsung SoC and license fees significantly reduced, if not eliminated. With processor design and manufacture in-house and being a maker of a multitude of devices Samsung would have an amazing amount of control on its business.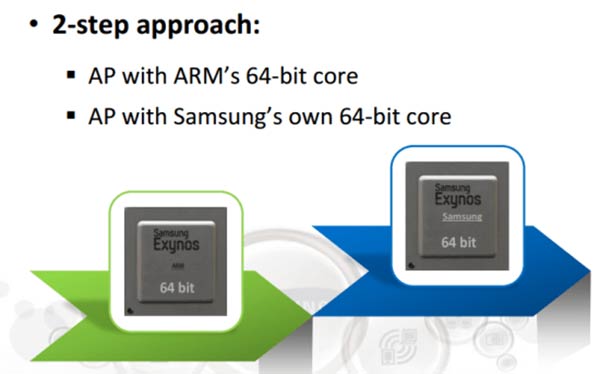 Samsung is also said to be working on its own 64-bit CPU core design
Nvidia Legal tussles
ZDNet's report quotes a Samsung exec confirming that the company is urgently trying to develop its own GPU. This is in the face of the Nvidia legal conflict that flared up in September. Please check through previous our SamVidia reports on HEXUS here. Ironically the legal problems stem from Samsung devices using Qualcomm Adreno GPU core technology in their Snapdragon powered variants.