Alienware has revealed the 'Graphics Amplifier'. This is an external graphics card option for the Alienware 13 laptop. The rather large and heavy box plugs into your thin and light Alienware 13 to allow you to utilise a desktop-class GPU for pixel pushing duties and comes equipped with a 4-port USB 3.0 hub. It's connected to a proprietary port which combines PCIe and USB connectivity.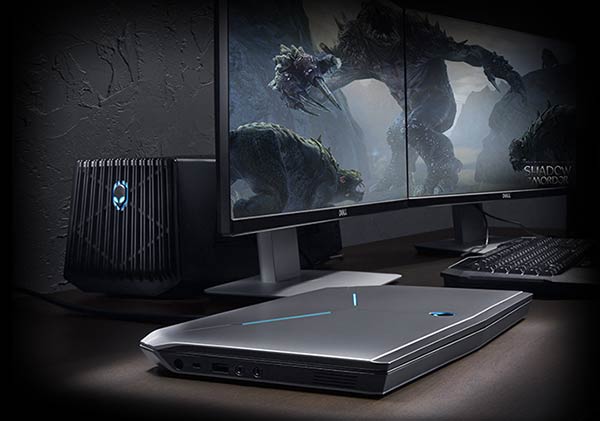 The Graphics Amplifier is described by Alienware as "the holy grail of gaming". The firm says the already considerable portable graphics power available built-into the Alienware 13 (up to an Nvidia GeForce GTX 860M GPU) is supercharged by the addition of this $299 box. Please remember that the $299 box doesn't include any desktop graphics card in the price, it's just a custom chassis with USB hub.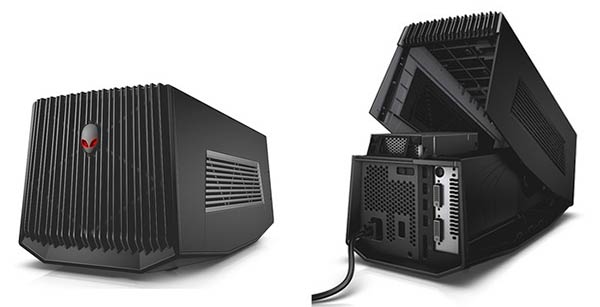 Gizmodo has tested out the toaster sized device and found that it was very easy to use with no drivers required (in tested configurations). Putting a GTX 660 Ti card inside the box gave a "substantial" boost over the laptop integrated GPU. The writer then swapped out that card for a GeForce GTX 980 and described the result as gaming "heaven". One issue was noted – games didn't appear to be able to utilise hardware accelerated PhysX effects. For graphics cards choice you are able to equip any AMD Radeon HD 5000 series and newer or Nvidia GeForce GTX 600 series and newer GPU. The card can be full length and dual-height.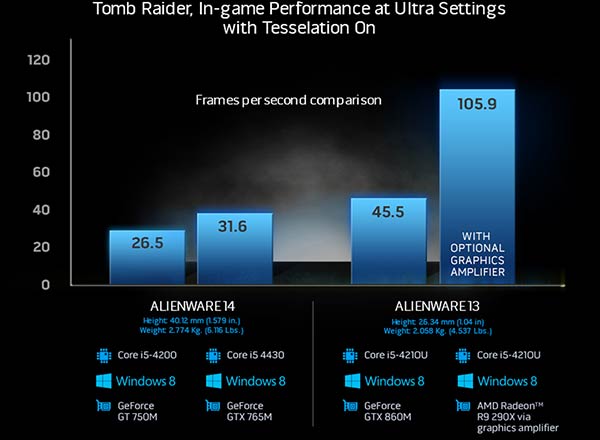 We've seen this external graphics accelerator idea floated a few times but it's interesting to see Dell/Alienware's implementation, marketing and pricing. According to the WSJ, both the Alienware 13 and the Graphics Amplifier go on sale today in the US.