Nvidia has made available its original design GeForce GTX SLI bridges via the Nvidia online store. The LED-lit bridges are designed to complement the styling of the high-end Nvidia reference cards and sport a glowing Nvidia logo. They provide a clean, integrated, unified design look, especially compared to alternative bridging methods such as a ribbon cable arrangement.
The range of GeForce GTX SLI bridges available directly from Nvidia include 2-way, 2-way spaced, and 3-way configurations. Nvidia has provided an illustration showing these bridge configurations, please see below.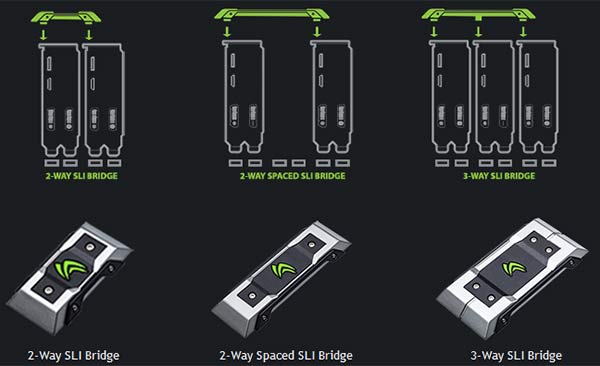 Nvidia's 2-way bridge costs $29.99, the 2-way spaced bridge also costs $29.99, the 3-way bridge is the most expensive at $39.99. Shipping is just under $9. At the time of writing all the bridges were on backorder.
This newly available range of SLI bridges are compatible with the Nvidia reference designs of the following SLI supporting graphics cards:
Nvidia GeForce GTX 770
Nvidia GeForce GTX 780
Nvidia GeForce GTX 780 Ti
Nvidia GeForce GTX TITAN
Nvidia GeForce GTX TITAN Black
Nvidia GeForce GTX 970
Nvidia GeForce GTX 980
Compatibility with any non-reference AiB partner designs, with custom coolers for example, is not discussed.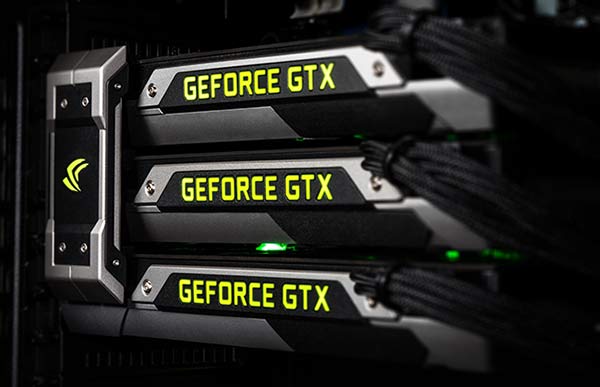 If you have a window to display the hardware in your PC these SLI bridges may well appeal, with their clean lines and LED-lit Nvidia logo. To control the logo lighting, referred to by Nvidia as the 'LED Visualizer', you will need version 1.7 or higher of the GeForce Experience software.