This week we have seen Nvidia graphic cards aimed at both extremes of the market. On Wednesday we saw the launch of The GTX Titan Z from Nvidia's hardware partners and yesterday we started to get emails from many of them showing off their latest graphics card SKUs based upon the GeForce GT 740 GPU. Another two such partner card press releases have just appeared in the HEXUS inbox in the last couple of minutes.
The Nvidia GeForce GT 740 is an entry level graphics card mostly priced just below the magic US$99 (in the UK we have some at £69.99 inc VAT), depending upon configuration. The official short description of this card from Nvidia suggests users should "Upgrade from integrated graphics and get the performance boost you need for lightning-fast web browsing, photo and video editing, and richer gaming". Nvidia goes on to say that the GT 740 should provide users with "4X faster gaming performance than integrated graphics while delivering rock-solid reliability and stability with GeForce Experience". That 4X figure must vary hugely depending on the integrated graphics being compared.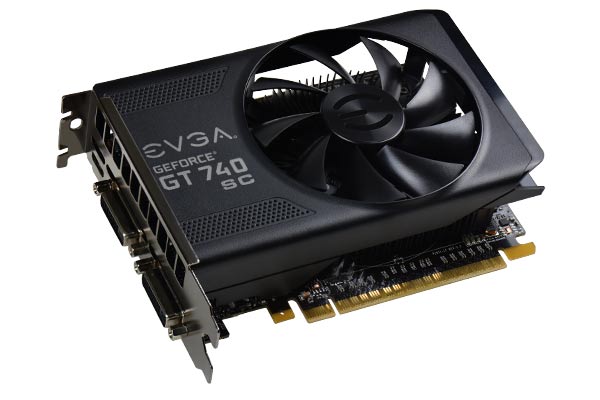 So far we've heard from KFA2, ZOTAC, EVGA (with nine variants), Palit and PNY. I've also seen mention of ASUS, Gainward and MSI GT 740 cards on the news wires. Most of these manufacturers are producing ranges of cards starting from say, a 1GB DDR3 version and then specced up as far a 4GB GDDR5 OC version which requires a 6-pin power connector.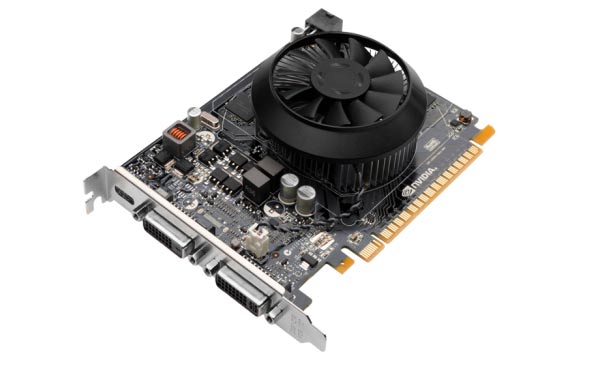 Nvidia reference card
The Nvidia reference card has 384 CUDA cores with a base clock of 993MHz. Depending upon whether you choose a GDDR5 or DDR3 memory equipped model you will get vastly different memory bandwidth via the 128-bit memory interface – please consult the table below.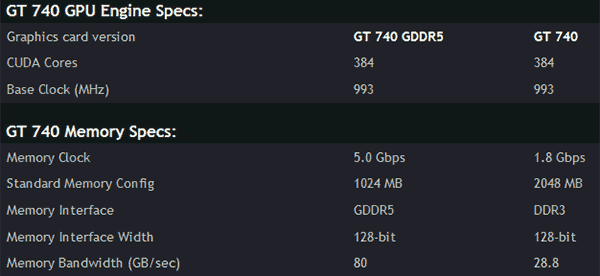 The GeForce GT740 is not based upon any Nvidia Maxwell part but a Kepler GK107 GPU. Its reference specs sit somewhere between the previous Nvidia 600 series cards; the GT 640 and the GTX 650. Therefore its performance will range between these depending upon the model and graphics RAM version you choose.